Commitment Profile
UNC Greensboro Commit Gallagher Goes The Extra Mile
by Rhiannon Potkey, 29 September 2020
Any time he coaches team competitions, Stewart Russell always tells his players to keep in touch. Olivia Gallagher took the offer to heart.
After playing for Russell at Zonals in Winston-Salem, N.C. nearly four years ago, Gallagher contacted him about coming to the Atlanta area from Kentucky for a few days each month to train.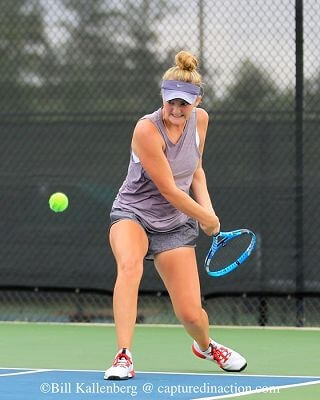 Four-Star Senior Olivia Gallagher Has Commited to UNCG
© Bill Kallenberg/CapturedInAction
The four-star senior from Georgetown, Kentucky doesn't get as much quality practice competition regularly where she lives and wanted to improve her game.
Gallagher makes the nearly six-hour drive each month, stays in a hotel with her mom or dad and practices with Russell at the Universal Tennis Academy.
"She just loves it. Obviously, we have a larger player pool here than what she has in Kentucky and she is taking advantage of that," Russell said. "She will come in and we have a plan to get her as much work as we can during those three days she's here."
The dedication helped Gallagher achieve her goal of being recruited to play tennis in college. She recently committed to the University of North Carolina at Greensboro.
UNCG head coach Alejandra Guerra saw Gallagher play a match last year at Southerns, and they stayed in regular contact.
"I just had a very strong connection with the coach. That was a huge plus for me," Gallagher said. "I have been to campus three times now and absolutely fell in love with the campus the moment I went there."