Commitment Profile
Incoming Hope: Moulin Ready to Join Sister at JMU
by Rhiannon Potkey, 4 November 2020
Hope Moulin never had the chance to play on a team with her older sister Kylie when they were growing up. Although they often trained and practiced together, they are four years apart in age.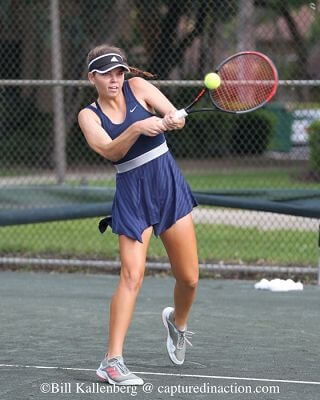 Four-Star Senior Hope Moulin Has Committed to JMU
© Bill Kallenberg/CapturedInAction
But once Kylie transferred from Alabama to James Madison University last year as a redshirt sophomore, they began dreaming about the possibility.
"She always said how much she wished there was a spot for my year because it would be cool for us to be on the same team," Hope said. "I saw how much she really loved it there and how all the girls on the team were like family. It really made me want to go there and be on that team."
Despite her attraction to JMU, Hope didn't think there would be a roster spot for her in 2021 until JMU head coach Shelley Jaduon gave her some good news. One player would be leaving after the 2020-21 season, and a spot was available.
The four-star senior from Lithia, Florida verbally committed to the Dukes last month.
"It was kind of like not all things that happened because of the corona were bad," Hope said of the worldwide coronavirus health pandemic that greatly hindered recruiting. "This was actually a positive in that one way. It gave me a chance to go play at that school."
Moulin wasn't able to visit her sister at JMU before the 2020 spring season was cut short. She finally made a trip to the Harrisonburg, Virginia campus during the summer to see the university.
"As soon as I saw it, it was just the prettiest campus and had really everything I wanted," Moulin said. "I knew I was very interested, and once I was able to take that visit it just sealed the deal."