Who's Hot
Hot 100 List - November 2020
by Amelia Thomas, 20 November 2020
TheLotto Elite Hot 100 lists are published each month, and the November Hot 100 lists feature the 100 boys and girls who most improved their rankings during the month of October. You can find out more about the Lotto Elite Hot 100 - and how the lists are calculated - by reading here.
The latest lists, published today, are available here:
We talked to a few of these top performers:
Tanvi Narendran (Tucson, Arizona)
Four-star junior Tanvi Narendran had a late start to competitive tennis. Despite growing up with two tennis-playing parents and playing recreationally throughout her childhood, Narendran did not begin to compete in tournaments until age 14, and she started playing national tournaments just two years ago.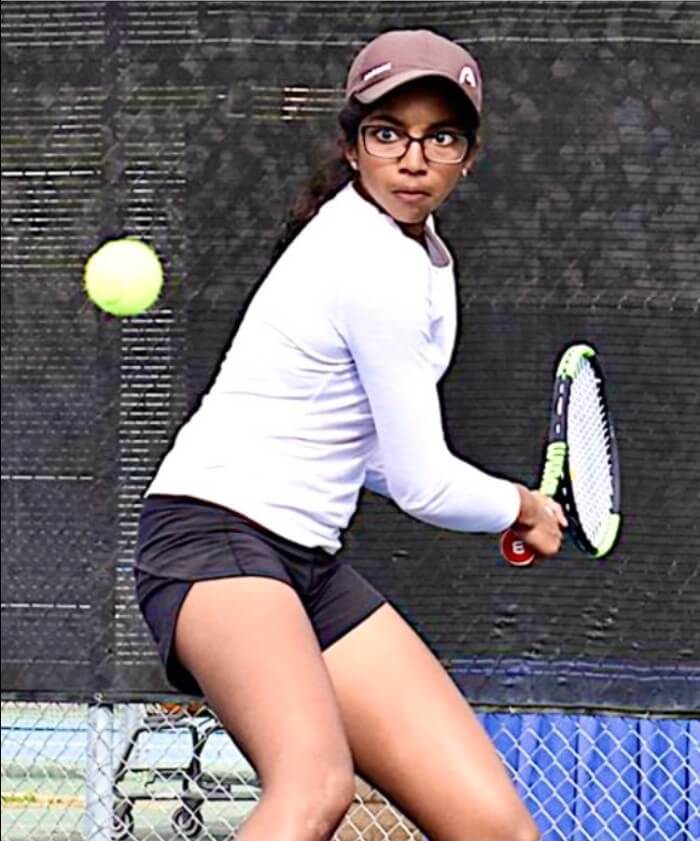 Four Star Junior Tanvi Narendran
© Contributed Photo
"I started national competition the summer after my freshman year in high school, and seeing the best players in the nation compete really motivated me to work harder on and off the court," Narendran said.
Since that time, Narendran has fully committed to her game. She wakes up at 6 a.m. daily to train for up to two hours before school, and she trains again for two hours in the evening.
"Being disciplined doesn't always come easy, but I really enjoy tennis. I play because I love the process of learning new things and getting better," she said.
Narendran took advantage of her extra time during the Covid-19 shutdown by increasing her practice time.
"I am lucky in the sense that the courts near my house never fully shut down, and I have a built-in hitting partner in my dad, with whom I played many matches in the late spring and early summer before I was able to play with other people," Narendran said. "I think that spending so much time on the court really helped my game as well as my confidence, which plays a really big part in tournament performance for me."
Narendran often trains with her father, Naren Velu, and she also works with coaches Evan Phillips and Amanda Fink in her hometown. Recently, Narendran, her father and her coaches have been working on her net game.
"I have always been a baseliner, playing mostly from the back of the court, but recently I've been working on adding this new dimension to my game," Narendran said. "At this point, I'm working on simply adding as much as possible to my game - new shots, more power and more effective movement. The goal is simply to add as many tools to my repertoire as I can."
Last month, Narendran put her hard work to the test in what she described as her best match of the month. In the quarterfinals of the 2020 ITA Fall Circuit in Phoenix, Narendran met five-star Anna Neyestani.
"I learned a lot from this match, especially because I knew my opponent well, and I had lost to her almost a year prior in straight sets," Narendran said. "The biggest key for me in that match was playing smart, making few unforced errors and keeping the ball out of my opponents strike zone with lots of topspin."
Narendran won the match 6-4, 6-2. In the same month, she reached the finals of the L5 Phoenix Challenger in Scottsdale. She carried her strong play into the first week of November, when she won the playoffs of the L3 Phoenix Jr. Masters Championships in Scottsdale.
The four-star junior boasts many other accolades in addition to her achievements in tennis. She is an AP National Scholar with Distinction and maintains a 4.0 GPA. She also participates in her school's mock trial program. Last year, her mock trial team placed second in the regional competition and qualified for State, which was unfortunately cancelled due to Covid-19.
Narendran also has a creative streak, having played piano since she was 3 years old. Her well-rounded interests also include philanthropy, and she has dedicated time to volunteering with an organization called SEVA Squad, which provides services to children, families and elders in the Tucson community during the pandemic.
"I feel that having a balance in the things you do is really important in being successful in them all," Narendran said. "I believe that my interest in the arts and academics actually help my tennis game by adding other dimensions to my thinking."
Narendran's academic and career aspirations drive her college search just as much as her tennis goals. Her participation in mock trial has contributed to her desire to attend law school.
"Right now, I'm looking for a school that will give me the best chance to get into a top-tier law school while advancing my tennis career as well. I really value academics as well as a strong team spirit and work ethic in a college," Narendran said. "In the past few years, tennis has become a big part of my life. My goal is to be able to continue this into college with a program that allows me to work towards being the best player I can be."
Gordon Whitwell (Oxford, Mississippi)
Four-star junior Gordon Whitwell credits his recent success to his hard work and determination.
"I've been training really hard through the whole summer and in these past few months, trying to get to some big goals I have set for myself," he said. "I had some tough losses in the summer, but the work has really translated around the past month of tournament play."
Like many players, Whitwell had to get creative during the Covid-19 shutdown in order to keep up his game. Initially in his hometown of Oxford, all the public courts closed.
"Me and anyone I could convince to go with me would take a walk through the woods to an abandoned set of tennis courts that I knew of," Whitwell said. "Once the real city courts opened up, I was right back to them of course."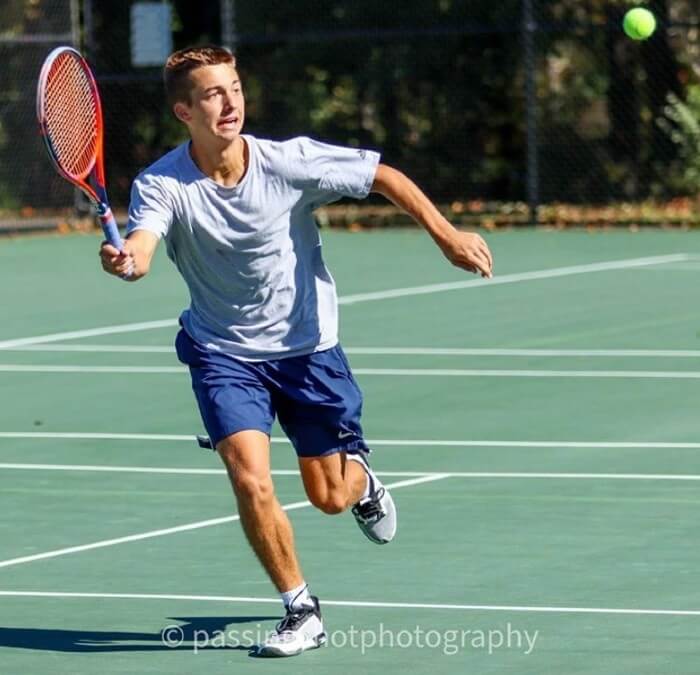 Four Star Junior Gordon Whitwell
© Contributed Photo
The 6-foot Whitwell works with coaches Vinod Gowda and Tucker Vorster in Oxford. Recently, Whitwell and his coaches have been developing many aspects of his game.
"I've been working on everything in my game the past few months, but I feel I've been doing a much better job managing risk in points and recognizing my court positioning to build points properly," Whitwell said.
According to Whitwell's father, Quentin Whitwell, the junior player has improved his mental game along with his technical skills.
"Gordon has a tremendous work ethic and is motivated to be a great player," Quentin Whitwell said. "Instead of trying to force results, he has relaxed to the point of staying in the moment. By competing without added pressure on himself, he has been able to translate tough matches into wins."
One of those tough matches came last month at a USTA event in Rome, Georgia. Whitwell competed against the No. 1 seed, four-star Ian Rasheed, in the quarterfinals.
"I lost the first set by a break and knew if I stayed strong and held serve, I could pull out the second set," Whitwell said. "Once I did this, I felt I really picked out some of his weaknesses and played my game well in the tiebreaker to win, 3-6, 7-5, 10-6."
Whitwell went on to win the playoffs of this event. In the same month, Whitwell reached the round four of the USTA Southern Closed in Mobile, Alabama, and worked his way to the consolation quarterfinals of the USTA Southern Championships in Norcross, Georgia.
His strong play earned him an 11-4 record for October and pushed him into the top 165 on the College Recruiting Lists. Whitwell carried this momentum into the first week of November, when he won the playoffs of another USTA event in Little Rock, Arkansas.
One of the long-term goals inspiring Whitwell's game is his desire to play tennis in college. "Right now, I am talking to several coaches that have reached out to me," Whitwell said. "I for sure want to be at a program that prides themselves in their work ethic and positive team culture."
Kei Kato (Aliso Viejo, California)
Three-star junior Kei Kato has encountered a few major transitions in the last year. First, she faced the challenge of the Covid-19 shutdown.
"My mom and dad drove around Orange County every day trying to find any open tennis courts for my sisters and me," Kato said. "Fortunately, that kept me playing and sustaining my skills."
Kato spent as much time as she could training during this time and also used her extra free time to focus on fitness, often doing floor workout routines with her father and two younger sisters.
During the shutdown, Kato began working with coach Brandon Fallon of the Racquet Club of Irvine, and she credits her hard work with Fallon over the summer for her recent results.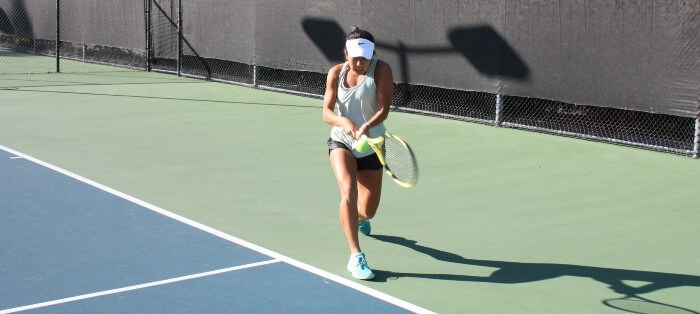 Three Star Junior Kei Kato
© Contributed Photo
"I started working with Brandon in May and made some changes both technically and in my game," Kato said. "It was a very tough transition for me, but he stuck with me and I worked hard through the changes. I believe that things could only get better, and it has shown in the last month. I am still aiming higher and higher each day."
Kato describes her defense as her biggest strength.
"My game is built on accurately placing shots and setting up the point to finish or drawing mistakes from my opponent," she said. "I move pretty well on the court, so a lot of the times I find myself making my opponent hit one more shot. My strength is definitely my defensive skill, but my defense isn't going to take me far, so I am working on being more offensive and aggressive."
Part of developing her offense includes improving her serve.
"I have focused on placement in the past and now am trying to add more speed and flatter first serves," Kato said. "Our goal is to add another type of serve into my toolbox so that I have more variety in my service games."
Kato competed in four tournaments in October, which included reaching the semifinals of the L4 RCI Head/Penn Fall tournament and winning the L5 Fall October @ RCI tournament in the Girls 18s. Kato earned a 7-2 record for the month and jumped into the top 200 on the College Recruiting Lists.
The three-star junior believes her best win of the month occurred at the L4 tournament. There, she met four-star Anna Pallencaoe in the Round of 16. Kato's strong mental game was key for her in this match.
"We had many long rallies, but I played more aggressively when I had the chance, drawing more errors from her. I stayed very positive from the beginning and kept my composure." Kato won the match 6-2, 6-3.
Kato's recent success has her thinking seriously about the future of her game.
"I am looking for a school that has great academic programs where I can hopefully do well," she said. "A calm, cozy, comfortable campus is also something that I want to consider. In the tennis program, I am looking for a D1 school with a team that supports each other in their efforts to get stronger."
Tyler Bowers (Bloomington, Illinois)
Four-star junior Tyler Bowers grew up surrounded by tennis. His father, Mark Bowers, was an adult national champion in 9.0 mixed doubles and his sister, Ashton Bowers, is a five-star freshman who has won four national balls.
Tyler demonstrated natural athleticism early in life. He grew up playing soccer, basketball, and baseball and running cross country in addition to playing tennis. He played both soccer and tennis for his high school teams in his freshman year. By the following year, however, Bowers knew he had a tough decision to make.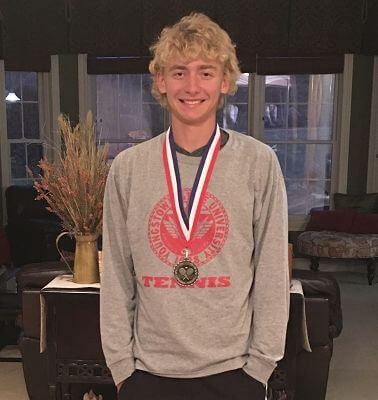 Four Star Junior Tyler Bowers
© Contributed Photo
"The winter after he played soccer his freshman year he noticed how far behind he was by missing practice time that fall and also not attending tourneys as well," his parents, Mark and Michelle Bowers, said. "He told us that winter that if he wanted to play high level college tennis, he would have to make a commitment. We supported it because it was his decision and we knew at some point he would have to make those kinds of calls."
Since then, Tyler Bowers has faced more changes to his game. This spring, Michelle Bowers was transferred from her job in Bloomington, Illinois to Atlanta. Bowers now trains at the Windward Lake Club in Alpharetta, Georgia, working primarily with coach Attila Azucka.
"I have had a higher level of training opportunities while I am here in the Atlanta area," Bowers said. "The coaches at Windward Lake have been super helpful in taking my skillset to the next level, and I finally feel like my tennis journey is on the right path. I am happy with my improvement, but in no way satisfied. I've got a long way to go."
Recently, the 6-foot-2 Bowers has been working on his transition game.
"I'd like to consider myself an attacking player that can buckle in if I need to," he said. "My goal is to take advantage of my height and my serve along with the weapons that I possess. I feel that my groundstrokes and serve allow me to get ahead in the point, but I've got to polish up my transition to the net and my first volleys."
Bowers's hard work since his move to Atlanta paid off last month. He won two tournaments, the Ga. State Fall Open Championships and the J4 Atlanta ITF. Bowers earned an 8-2 record for October and leapt into the top 75 on the College Recruiting Lists.
The four-star player has also enjoyed considerable success in doubles tennis. Back in Bloomington, Bowers played tennis for University High School. He and his doubles partner won the Illinois State doubles title. "Of all my tennis accolades, that season was just so much fun," Bowers said.
With his background and love for team sports, a positive team atmosphere is something he is looking for in a college program.
"My focus now is improving my game to where I can have four enjoyable years in the college team atmosphere that I desire," he said. "I grew up 40 minutes from the University of Illinois, so I've seen a lot of their matches over the years, and I love the atmosphere of the bigger programs. Even if I have to play lower lineup and work my way up, I definitely want to play for a program that draws a crowd and is a top NCAA school."
Presented by Lotto Elite
Are You Elite?

Lotto Elite is proud to be the presenting sponsor of the Lotto Elite Hot 100.
It's no coincidence that nearly 200 professional players represent the Lotto brand on the ATP and WTA tours, making it the third most visible brand behind only Nike and adidas, respectively. The Italian design and performance features make Lotto product highly sought-after at every level of competition.
The heritage of Lotto Tennis is rich with Grand Slam and Davis Cup champions, from Wimbledon Champion John Newcombe and Italian Davis Cup Champion Tonino Zugarelli, to Grand Slam Champions Martina Navratilova and Boris Becker.
Lotto Elite is a preferred pricing program designed around and for the coach and player, not the brand. We don't think a ranking or rating defines you as a player. We think your grit, determination, love of the grind, attitude and so much more, both on and off the court, define you as a person and makes you Elite.
This is why we wanted to partner with the Hot 100 list. We believe this group of players embody what it means to be Elite. Whether you're a 2-star or Blue Chip recruit, being on this list means you put yourself out there, went for it, and accomplished a goal. Keep Grinding.
Learn more about the Lotto Elite program by clicking here. You can also connect with us on Instagram or Facebook.
Leave a Comment
More Roundup Articles
23-Oct-2020
Hot 100 List - October 2020
It's time to unveil the October 2020 edition of the Hot 100. The Hot 100 features 100 boys and 100 girls who have been playing outstanding tennis. These players have substantially improved their rankings over the past month.
22-Sep-2020
Hot 100 List - September 2020
It's time to unveil the September 2020 edition of the Hot 100. The Hot 100 features 100 boys and 100 girls who have been playing outstanding tennis. These players have substantially improved their rankings over the past month.
1-Sep-2020
Tennis Recruiting Welcomes the Class of 2027
Tennis Recruiting Network welcomes the Class of 2027 to the rankings this week. Among the young rising stars are sixth-graders Eli Dieveney, Julieta Pareja, Sebastian Bielen and Thara Gowda.
About Amelia Thomas
Amelia Thomas has been the author of the Hot 100 column at Tennis Recruiting since Fall 2009. Thomas, currently a student at Appalachian State University in Boone, has been involved in journalism in both high school and college. She served as editor of her school's online news site in 2011 and 2012, and she placed in a National Scholastic competition for Feature of the Year.