Recruiting 101
Meet The Assistant: University of Washington's Georgia Munns
by Rhiannon Potkey, 14 January 2021
They fill a crucial role in every college program. They juggle multiple responsibilities and put in long hours behind the scenes. They arrive early to hit balls, they stay late to provide advice and they keep in contact with potential recruits.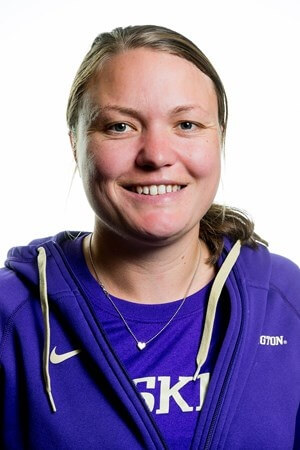 They are assistant coaches.
Although they may not get as much attention as head coaches, they are highly valued by many.
In this edition of Meet The Assistant, we profile University of Washington assistant coach Georgia Munns:
Why did you get into coaching?
I got into college coaching because I had an unbelievable experience playing college tennis at Northwestern University. I was really fortunate to have amazing coaches and role models growing up through juniors who had a huge influence on me. Once I got to college, it was by far the best four years of my tennis career. I fell in love with college tennis and college athletics immediately. Being part of a team and working together to be the best we could be was such an unbelievable feeling! My teammates are still some of my best friends, and people in the athletic department have become mentors for life. My coach in college (Claire Pollard) had more of an impact on me than I can possibly put into words. She helped me grow as a tennis player and person every single day and I realized I wanted to have that same impact on student-athletes.
What do you enjoy most about coaching?
I love getting to know our student-athletes and helping them develop both on and off the court. It is such a unique time in their life and they are constantly learning more and more about themselves – I really enjoy being part of that process and helping them succeed. There are so many opportunities for development, especially since we can be on court coaching during matches. This makes it more important to really get to know each person and how they need to be coached on court during a match. The team aspect is amazing and I really believe it teaches you so many lessons that you'll use for the rest of your life. College tennis is FUN – nothing beats a locker room celebration after a win and van rides on trips! Lastly, one of my favorite parts of coaching is staying in touch with the student-athletes I work with after they graduate. Seeing them become successful in their careers and going to their weddings are some of my best memories!
What is the most challenging aspect?
Covid has been really challenging. Having our season end so abruptly back in March and going from playing a match one day to our team being home within a week was something none of us imagined. It was really challenging to not be together and only seeing each other over Zoom for so long. I've been really proud of how our team handled and continues to handle the challenges we're facing right now. Pre-Covid, I would say the most challenging aspect is getting beat in Spike Ball over and over again! Some of our players are REALLY good and I'm pretty competitive so I don't take the losses lightly.
How much of your job is recruiting?
A lot! We get emails/calls every single day from recruits and are always planning for the future and spending time getting to know recruits. It is a huge part of the job and critical to the future of the program. We spend a lot of time talking to recruits, their parents and their junior tennis coach to get as much information as possible about each person. We are also constantly networking with junior coaches across the country and world.
What are your strategies to identifying recruits?
Obviously ranking and UTR are taken into account as an initial assessment. Ultimately, we want really good people in our program. We are looking for student-athletes who are great competitors, who love the game of tennis and love the process of developing. We consider our team a family and want to get to know each recruit and their family to make sure it's a good fit for everyone.
Best advice you would give to recruits?
Do your homework on each school and take your time! I remember my coach in juniors (Mark Bey) had me do a lot of research on each school I was looking at. He created lists for everything (coaching staff, facilities, academics, location, size of school, etc.) and made sure I took unofficial and official visits. I'm so thankful for all of that. It is a really important decision, and getting to know the coaches and players is a big part of it. What are you looking for academically, athletically, socially? Understand the culture you're looking for and what you want to get out of the experience. Especially during Covid and the recruiting dead period – I really urge recruits to continue to take their time and go through the full process.
What are your future aspirations?
I am absolutely loving where I am right now. We live in an amazing city and I truly believe I work at one of the best athletic departments in the country. Jen Cohen, our AD, has created an unbelievable environment here at UW and I am really fortunate to work with (head coach) Robin (Stephenson) every day. I would like to continue working with and developing amazing student-athletes and win some Pac-12 and NCAA titles as a Husky!
Leave a Comment
More Recruiting 101 Articles
21-Jan-2021
Recruiting Insider: Arkansas Head Coach Courtney Steinbock
Getting more insight into how college coaches recruit can make the process less intimidating for prospets. Our "Recruiting Insider" series features coaches from across the nation providing their recruiting methods. Today, we hear from University of Arkansas women's head coach Courtney Steinbock.
23-Dec-2020
Meet The Assistant: Illinois' Marcos Asse
Assistant coaches might not get as much attention as head coaches, but they are highly valued by everyone within a college program. They work long hours to help teams try to win matches and help players try to achieve their goals. In this edition of Meet The Assistant, we profile Illinois' Marcos Asse.
11-Dec-2020
Recruiting Insider: Kansas Coach Todd Chapman
Getting more insight into how college coaches recruit can make the process less intimidating for prospets. Our "Recruiting Insider" series features coaches from across the nation providing their recruiting methods. Today, we hear from University of Kansas women's coach Todd Chapman.
About Rhiannon Potkey
Rhiannon Potkey is a veteran sportswriter with more than two decades of experience in journalism. Potkey has covered many sports at many levels and has a passion for finding great stories. Potkey has covered the U.S. Open, junior sectional and national events, college conference championships and Davis Cup matches. Potkey is currently Content Strategist for Tennis Recruiting. You can reach Rhiannon by email at
[email protected]
.