College Feature
Georgia Gwinnett Men Set All-Time Consecutive Wins Record
by Rhiannon Potkey, 19 March 2021
The NAIA's top-ranked Georgia Gwinnett College men's tennis made history on Monday with its 138th straight dual match victory, beating No. 14 University of the Cumberlands 5-0.
According to the school, the streak is the longest in all of college sports.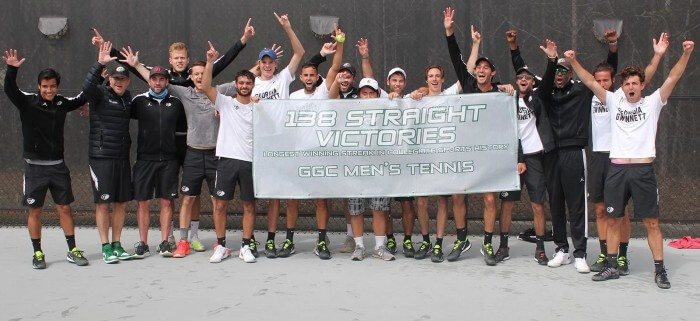 The Georgia Gwinnett Men Celebrate Their Milestone
© GGC Athletics
The longest win streak in the NCAA record books is the University of Miami's 137-match winning streak in Division I men's tennis from 1957-64. The Division II BYU-Hawaii women's tennis team won 130 straight matches from 2002-05 (the BYU-Hawaii program also won 103 straight matches from 1999-2001). The University of Oklahoma men's gymnastics team recorded 121 straight wins from 2015-2019, and the UConn women's basketball team had a 111-game winning streak from 2014-17.
GGC's amazing winning streak spans nearly six years, starting with a win on April 4, 2015. During the streak, GGC, which launched the program in 2013, has won six NAIA national championships and compiled a 180-3 all-time record. The Grizzlies have defeated programs at the NAIA, NCAA Division I, NCAA Division II and NCAA Division III levels.
Confident in the likelihood of Monday's win, the program had a banner ready to celebrate the record-setting milestone.
Georgia Gwinnett head coach Chase Hodges, a seven-time ITA National Coach of the Year and 11-time NAIA National Coach of the Year recipient, provided some insight into the program's historic accomplishment.
How much does this record mean to your program?
CH: I would equate this record to a national championship in terms of how much it means. We have been looking up to the number 137 since 2019 when we hit 100. I am ecstatic and relieved that we have finally achieved it.
The amount of exposure to our program has been incredible these last few days. We are so thankful to everyone that has reached out about the milestone of achieving the record. Our program has been overwhelmed with support and coverage from all across the USA. It's certainly been a humbling experience for all of us and we are grateful that GGC men's tennis is being talked about as one of the best collegiate tennis programs across all divisions.
I'm very thankful to my athletic director Darin Wilson and our president at GGC for giving me the necessary resources to attain this streak.