NCAA Championships
Emory Men and Women Sweep NCAA Division III Team Titles
by Rhiannon Potkey, 26 May 2021
The seniors on the Emory tennis teams started to believe their college careers would end without another chance to play for a title of any kind. After the 2020 season was cut short, they entered 2021 wondering if their final two seasons would be spent largely on the sidelines.
They were told in February they could begin practicing, and finally got the clearance in early March to play matches within 250 miles of their Atlanta campus. Their coaches scrambled to piece together a schedule, and the players rejoiced in the middle of March when the NCAA announced the spring national championships would be held.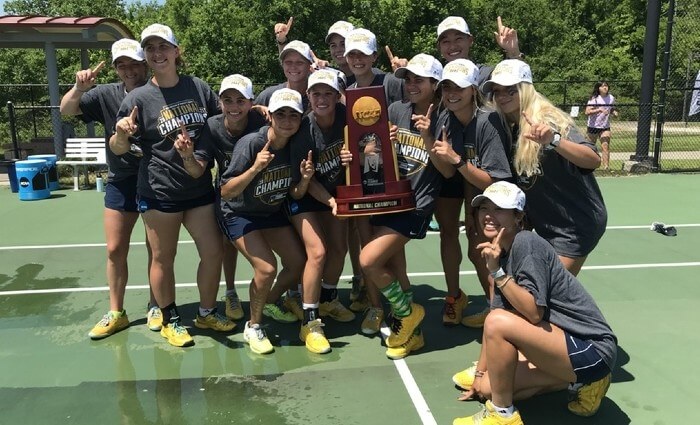 The Emory Women Won The Program's 8th National Title
© Emory Athletics
Given their chance, the Eagles soared to meet the challenge. Amid scorching heat, Emory swept the NCAA Division III men's and women's titles on Wednesday at the Champions Tennis Club in Chattanooga, Tennessee.
Emory completed the third double championship of the spring tennis season, joining Barry University in Division II and Georgia-Gwinnett in NAIA in winning both the men's and women's titles. It's the third time the Emory men and women have won the Division III national titles in the same year (2006, 2003).
Emory's teams took contrasting approaches in the final match. The women made quick work of defending champion Wesleyan (CT), beating the Cardinals 5-0 in two hours. The men grinded out a 5-2 victory over Case Western Reserve that lasted 3 ½ hours.
"It's just surreal," Emory men's coach John Browning said. "It's been a really rough year for our kids. These guys had so many things thrown at them and they have just been resilient and mentally tough and weathered the storms."
The Emory women (10-3) took full control from the start against Wesleyan (10-1) to capture the program's eighth national title and first since 2016.
The Eagles only lost 10 total games in the five matches they won.
After Emory swept all three doubles sets, senior Ysabel Gonzalez-Rico and junior Jessica Fatemi clinched the match moments apart on courts one and six. Gonzalez-Rico beat Venia Yeung 6-1, 6-0 and Fatemi beat Caitlin Goldberg 6-0, 6-2.
"We just came out strong and didn't look back. The girls played fantastic," Emory women's head coach Amy Bryant said. "It was almost like they were letting out their frustrations about the last 16 to 18 months and did it in a healthy competitive way. They were true champions in every aspect of the word."
Emory beat Tufts 5-2 in the semifinals while Wesleyan, which won the national title in 2019 when it was last played, beat Kenyon 5-1. Emory senior Stephanie Taylor, who hadn't played singles since her freshman season, held down the No. 3 spot in the lineup for the Eagles and clinched their semifinal win.
"I think we felt really, really good coming off that Tufts match. They really gave us a run for our money and really built up that fighting spirit in us," Emory senior Katie Chang said. "By the time the final match came around, I think we were just ready to go. It pumped us up and fired us up to have this chance to beat the reigning champions."
The Emory men (10-3) went the distance against Case Western to win the program's sixth national title. The Eagles emerged from doubles with a 2-1 lead, and extended their advantage to 3-1 after a straight-sets win by Andrew Esses.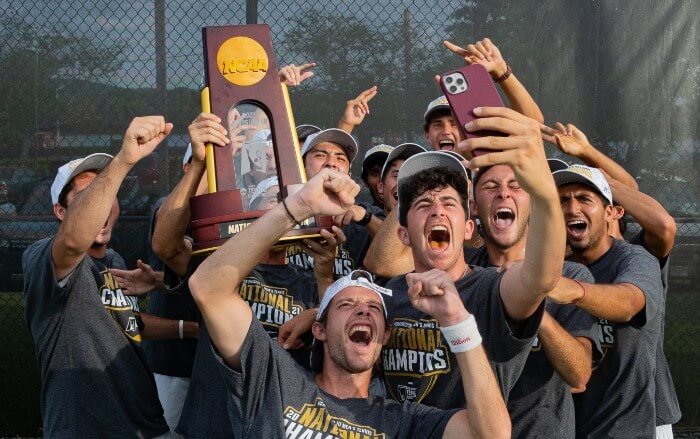 The Emory Men Won the Program's 6th National Title
© Emory Athletics
Case Western (14-3) narrowed Emory's lead to 3-2 before Will Wanner won his match and set the stage for freshman Nolan Shah to clinch the title with a 6-3, 6-4 win on court six over Anthony Kanam.
Leading up to the national tournament, the Emory men withstood numerous challenges off the court. The players contracted Covid and had to miss time, and they dealt with knee injuries and stress fractures.
But Browning believes the adversity steeled the Eagles for the last few days.
"Our mantra is to expect bad things to happen and quickly get over it," he said. "The faster we get back to getting our focus and mind in the right place in order to win these things, the better. It's a marathon not a sprint. It's a three-day cumulative physical and mental battle and you have to let things go and be ready to focus on the next point."
The Eagles know how fortunate their teams were to play at all this season. Not all Division III schools got the chance. Traditionally strong programs like Claremont-Mudd-Scripps, Bowdoin, Pomona-Pitzer, Amherst, Middlebury, Redlands and UChicago were just a few of the teams missing from nationals.
"A lot of credit needs to go to John Shackelford and Sewanee. They were instrumental in getting this host site together," Browning said. "And a lot of credit to the NCAA for being courageous enough to allow us to compete during a period of Covid."
After her team got done celebrating and posing for pictures, Bryant checked her phone to find 65 text messages from former Emory players sending their congratulations.
"The girls on this year's team know what it means to be an Emory women's tennis player. There is a lot of history behind us and a lot of pride in this program," Bryant said. "You are not just playing for yourself. You are playing for something much bigger than yourself."
The Emory women's five seniors will soon be dispersing to different parts of the country for the next phase of their lives.
Chang has a job in Miami working in private equity real estate, Gonzalez-Rico plans to play tennis at UC Irvine next season, Taylor is doing her nursing residency in emergency medicine, Defne Olcay is returning home to Turkey and Sasha Hartje is following in the family tradition by using her final two years of eligibility to play ice hockey at Long Island University while pursuing her MBA.
"The title is really special. We were just so blessed and grateful to have the opportunity to compete and I think that really showed in these last few days," Chang said. "We just came out here and just decided to have some fun and play some really good tennis. We tried to smile and laugh as much as we could through all of it."
Women's Division III Final Result
Emory 5, Wesleyan 0
Doubles
1. Katie Chang/Ysabel Gonzalez-Rico (Emory) def. Katie Fleischman/Venia Yeung (WES) 8-1
2. Stephanie Taylor/Christina Watson (Emory) def. Caitlin Goldberg/Kristina Yu (WES) 8-2
3. Ana Cristina Perez/Lauren Yoon (Emory) def. Alexis Almy/Megan Tran (WES) 8-4
Singles
1. Ysabel Gonzalez-Rico (Emory) def. Venia Yeung (WES) 6-1, 6-0
2. Katie Fleischman (WES) vs. Christina Watson (Emory) 1-6, 3-2, unfinished
3. Alexis Almy (WES) vs. Stephanie Taylor (Emory) 4-6, 2-1, unfinished
4. Serim Jin (WES) vs. Ana Cristina Perez (Emory) 4-6, 0-2, unfinished
5. Kristina Yu (WES) vs. Defne Olcay (Emory) 6-1, 4-2, unfinished
6. Jessica Fatemi (Emory) def. Caitlin Goldberg (WES) 6-0, 6-2
Men's Division III Final Result
Emory 5, Case Western Reserve 2
Doubles
1. Cassone, Hayden/Mora, Antonio (Emory) def. Powell, Jonathan/Mabee, Neil (CWR) 8-4
2. Wanner, Will/Esses, Andrew (Emory) def. Aduru, Chaitanya/Kanam, Anthony (CWR) 8-4
3. Hopper, James/Aduru, Vishwa (CWR) def. Raina, Sahil/Shah, Nolan (Emory) 8-4
Singles
1. Hopper, James (CWR) def. Cassone, Hayden (Emory) 6-0, 6-3
2. Aduru, Vishwa (CWR) vs. Mora, Antonio (Emory) 1-6, 6-4, 4-5, unfinished
3. Esses, Andrew (Emory) def. Chen, Matthew (CWR) 6-3, 6-0
4. Wanner, Will (Emory) def. Aduru, Chaitanya (CWM) 6-0, 6-4
5. Powell, Jonathan (CWR) vs. Sverdlov, Mark (Emory) 6-4, 4-6, 3-4, unfinished
6. Shah, Nolan (Emory) def. Kanam, Anthony (CWR) 6-3, 6-4
About RIA Eyewear
College Content at TennisRecruiting.net is sponsored by RIA Eyewear.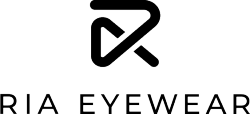 Since picking up our first racquets over 23 years ago, we've seen innovation across many aspects of racquet sports equipment - from racquets and shoes, to balls and courts.
It's finally time for eyewear to join the list.
RIA Eyewear is built by elite athletes that want a solution to meet the clarity, fit, precision, and pace the game requires. Improve depth perception and reaction time with our performance enhancing tints that heighten the contrast between the ball and the court.
Connect with RIA Eyewear on Facebook, Twitter, Instagram, and YouTube - or on their website.
Leave a Comment
More College Coverage
23-Aug-2021
Clearer Outlook: Cloud Quickly Goes From Tennessee to SMU
After the Tennessee coaching staff encouraged Louis Cloud to pursue other options, the incoming freshman quickly found a landing spot at SMU. Cloud only had a few days to drive to Dallas and get admitted to the school, but he made it work.
11-Aug-2021
Meet The Assistant: Ohio State's Justin Kronauge
Assistant coaches might not get as much attention as head coaches, but they are highly valued by everyone within a college program. They work long hours to help teams try to win matches and help players try to achieve their goals. In this edition of Meet The Assistant, we profile Ohio State's Justin Kronauge.
24-Jun-2021
USTA Announces 2021 Collegiate Summer Team
The USTA announced the 10 American college players named to the 2021 USTA Collegiate Summer Team, a training program designed to help America's best college players assimilate to professional tennis in a team-oriented environment.
About Rhiannon Potkey
Rhiannon Potkey is a veteran sportswriter with more than two decades of experience in journalism. Potkey has covered many sports at many levels and has a passion for finding great stories. Potkey has covered the U.S. Open, junior sectional and national events, college conference championships and Davis Cup matches. Potkey is currently Content Strategist for Tennis Recruiting. You can reach Rhiannon by email at
[email protected]
.