2021 Clay Court Nationals
Top-Seeded Jack Secord Cruises to Boys 12s Title
by Rhiannon Potkey, 20 July 2021
Jack Secord set a very manageable goal entering this year's USTA National Clay Court Championships.
On the first day of the Boys 12s event in Orlando, Florida, Secord turned to his mother and said, "Mom. I want to do better than I did two years ago."
Boys 12s Singles Champion Jack Secord
© Contributed Photo
The bar wasn't set very high.
During his clay court nationals debut in 2019, Secord lost four straight matches in the compass draw format.
His return was a smashing success.
The top-seeded Secord of Lake Forest, Illinois defeated No. 13 Teodor Davidov of Denver, Colorado 6-4, 6-1 to capture the Boys 12s singles title at the USTA National Campus.
Secord only lost a total of 25 games in his seven matches to capture the first gold ball of his budding career. The blue chip rising seventh grader faced his only deficit in the final against Davidov.
Secord trailed 4-2 in the first set before rallying to wrest away the momentum and win 10 of the final 11 games in the match.
"He was playing out of his mind and I just stayed with him and then I came back," Secord said. "I panicked a little bit, but I didn't panic too much."
Davidov made an upset-filled run to the finals, beating No. 2 Yannik Alvarez of Cumming, Georgia 7-6(3), 6-2 in the Round of 16 and No. 3 Navneet Raghuram of Fenton, Missouri in the semifinals.
The left-handed Secord comes from a family with a strong tennis lineage.
His mom, Linda Harvey Wild, is a former professional who reached a career-high of No. 23 in singles and No. 17 in doubles on the WTA Tour. His older brother and sister play the sport and his cousins, Colin and Kate Harvey, signed with Michigan State. Colin graduated in 2019 while Kate will be a senior for the Spartans in the fall.
Secord is coached by his grandfather, Steve Wild, at LifeSport Tennis Academy in Lincolnshire, Illinois. The club has clay courts, so Secord was able to get a bit of training on the surface before competing at nationals.
He is the first from his family to win a gold ball in any junior event.
"I thought he played really well and he just kept his cool," his mother said. "He was able to handle the pressure. I am so proud of him."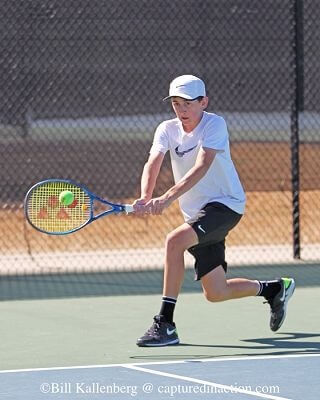 Secord is a Blue Chip Rising Seventh Grader
© Bill Kallenberg/CapturedInAction
In the doubles final, the second-seeded Georgia duo of Ryan Cozad and Alvarez captured the title with a 6-4, 6-2 victory over No. 1 Raghuram and Colin McPeek of Carmel, Indiana. Cozad and Alvarez didn't drop a set during the tournament run.
"From the beginning of the week, we were playing really well together and I felt we had a great chance to go deep in the tournament," Cozad said. "I feel like our games match up together and, most importantly, we get along really well on the court."
Cozad and Alvarez are close friends and formed their partnership at GA Tennis Academy, which is run by Alvarez's father, Gilly Alvarez. The two practice together daily.
"This was our first time playing a doubles tournament together and we ended up winning the tournament," Alvarez said. "Ryan is a good friend and he makes me laugh on the court when I am getting down on myself when I am not playing as well as I can."
Secord planned to have a celebratory dinner in Chicago once the family made the 16-hour drive back from Orlando.
He won't be resting on his laurels long, with another big event right around the corner.
"I will be training for national hard courts," Secord said. "The same thing we did to train for every other tournament is what we will be doing to get ready for that."
(The full results and draws for the Boys 12s National Clay Court Championships can be found here.)
Leave a Comment
More Tournament Features
23-Jul-2021
Honer Wins First Gold Ball By Securing Girls 18s Title
Losing early in doubles at the USTA Clay Court National Championships had a silver lining for Amelia Honer. The UCSB-bound Pennsylvania native conserved her energy and walked away with a gold ball in the Girls 18s singles.
23-Jul-2021
Colby Makes Healthy Return to Win Boys 18s Title
Ryan Colby thought he may never play competitive tennis again after leaving the USTA National Clay Court Championships with a serious elbow injury three years ago. That made capturing the Boys 18s singles title this year even sweeter.
22-Jul-2021
Quevedo Leaves Huntsville with Girls 16s Title, Gold Ball
Kaitlin Quevedo didn't know anything about gold balls before playing the USTA Girls 16 National Clay Court Championships. She was handed the prize possession after winning the singles title in Alabama. Stephanie Yakoff and Natalia Perez won the doubles title.
About Rhiannon Potkey
Rhiannon Potkey is a veteran sportswriter with more than two decades of experience in journalism. Potkey has covered many sports at many levels and has a passion for finding great stories. Potkey has covered the U.S. Open, junior sectional and national events, college conference championships and Davis Cup matches. Potkey is currently Content Strategist for Tennis Recruiting. You can reach Rhiannon by email at
[email protected]
.