2021 Clay Court Nationals
Blanch Takes Boys 14s Singles Title in Miami
by James Hill, 21 July 2021
Darwin Blanch is now the proud owner of a hand-blown flamingo trophy.
The ninth-seeded Blanch was presented the unique trophy after winning the singles title at the USTA Boys 14 National Clay Court Championships at Flamingo Park Tennis Center in Miami Beach, Florida.
The Deerfield Beach, Florida native emerged as the champion after beating top-seeded Braeden Gelletich (Goshen, New York) 6-3, 6-3 in the finals.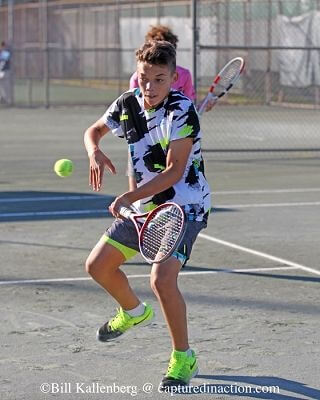 Boys 14s Singles Champion Darwin Blanch
© Bill Kallenberg/CapturedInAction
"I didn't do anything different against the No. 1 seed," said Blanch, who played in only his third USTA tournament. "There are many dangerous players in all rounds, so it doesn't matter their seed or ranking. You always need to play well every match, or you will lose.
"I stayed focused all the time. I played well the entire match from the first to the last ball. This is most important to me."
The flamingo doubles trophies went to the 14th-seeded team of Maximus Dussault (Stuart, Florida) and Maxwell Exsted (Savage, Minnesota), who beat the No. 4 tandem Ian Mayew (Cary, North Carolina) and Oliver Narbut (Chapel Hill, North Carolina) 6-3, 7-6 (4).
Dussault and Exsted earlier won the Easter Bowl doubles title last April in their first tournament together. Exsted won the 12s clays in 2018 with Rudy Quan and the 2019 event with Cooper Woestendick. The Miami Beach event marked the first time Exsted took home back-to-back titles with the same partner.
"We suit each other's game styles," Exsted said about his partner. "We know our strengths and set up each other well."
Blanch, who did not drop a set in the tournament, defeated Narbut 6-2, 6-1 in the semifinals.
"I try to stay strong physically, even if I have to play two or three matches every day," said Blanch, who is coached by Eric Nunez in Orlando. "I sometimes finish late and play again early the next morning."
Gelletich was a 6-3, 6-4 semifinals winner over Aarav Patel (Pittsford, New York).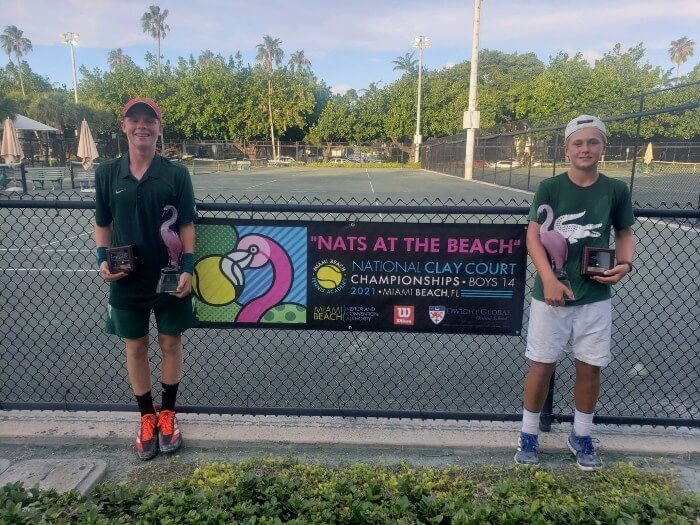 Doubles Champs Maximus Dussault, Maxwell Exsted
© Contributed Photo
Third place in singles went to Narbut, who outfought Patel 6-7 (4), 6-4, 7-6 (1). The team of Dominick Mosejczuk (East Elmhurst, New York) and Nicholas Patrick (Coal Valley, Illinois) took third in doubles with a 6-2, 6-3 decision over Anirudh Dhanwada (Tenafly, New Jersey) and Jon Gamble (Las Vegas).
The "Nats at the Beach" were not without their problems. There were long delays caused by severe rain storms in the Miami Beach area.
"Even though it was challenging to get in all the matches with five days of rain and delays the players eventually got back on track," said tournament director Martin van Daalen. "It was a high-level tournament with competitive play. Darwin was the deserved winner of this year's national 14s."
Leave a Comment
More Tournament Features
23-Jul-2021
Honer Wins First Gold Ball By Securing Girls 18s Title
Losing early in doubles at the USTA Clay Court National Championships had a silver lining for Amelia Honer. The UCSB-bound Pennsylvania native conserved her energy and walked away with a gold ball in the Girls 18s singles.
23-Jul-2021
Colby Makes Healthy Return to Win Boys 18s Title
Ryan Colby thought he may never play competitive tennis again after leaving the USTA National Clay Court Championships with a serious elbow injury three years ago. That made capturing the Boys 18s singles title this year even sweeter.
22-Jul-2021
Quevedo Leaves Huntsville with Girls 16s Title, Gold Ball
Kaitlin Quevedo didn't know anything about gold balls before playing the USTA Girls 16 National Clay Court Championships. She was handed the prize possession after winning the singles title in Alabama. Stephanie Yakoff and Natalia Perez won the doubles title.
About James Hill
James Hill is the Assistant Sports Information Director at Trinity University in San Antonio and a freelance writer. He has covered all levels of tennis competition.