2021 Clay Court Nationals
Quevedo Leaves Huntsville with Girls 16s Title, Gold Ball
by Rhiannon Potkey, 22 July 2021
Kaitlin Quevedo didn't know anything about gold balls until she arrived at the USTA Girls 16 National Clay Court Championships last week.
The blue chip rising sophomore from Naples, Florida had played in a few big national junior events, but never got close enough to winning to understand how the award system works.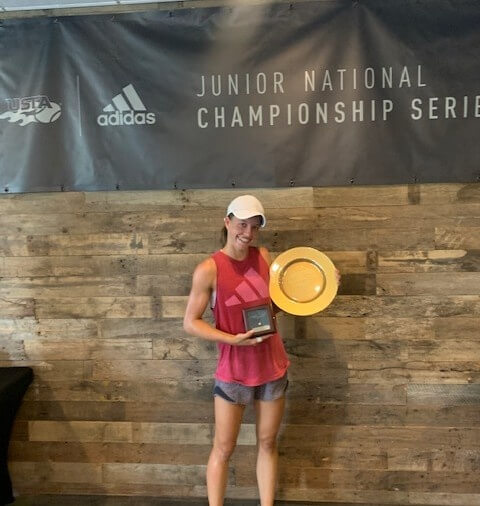 Girls 16s Singles Champion Kaitlin Quevedo
© Contributed Photo
"Once I heard about it at the start of the tournament, I got really excited. I think that was extra motivation for me to really win," Quevedo said. "I already wanted to compete, but it made me work even harder to try and get that."
Quevedo left Huntsville with the precious commodity in her possession after rallying to beat No. 10 Tola Glowacka of Glen Head, New York 2-6, 6-2, 6-4 at the Athletic Club Alabama in Huntsville.
"In the moment, it was really amazing," said Quevedo, one of the No. 33 seeds. "Just the feeling of winning one of the most important tournaments for juniors in the U.S. was such a great feeling."
Quevedo made quick work of her early opponents before being challenged in the later rounds. She needed three sets to win her quarterfinal, semifinal and final matches.
"Going through each match every day is very exciting. Some were very nerve-wracking, but in the end coming through was such a feeling of relief that you did it," Quevedo said. "It was a difficult week, but I am so happy I was able to make it through."
Winning her first gold ball on clay was a fitting breakthrough for Quevedo considering its her "favorite surface."
" I think my game really suits the clay because I feel like I hit a more heavy ball with a higher margin over the net," said Quevedo, who trains at Gomez Tennis Academy in Naples. "It bounces quickly on clay, and most people don't like it as much in a higher strike zone, so that is good for me competing against most of the girls."
In doubles, a pair of unseeded teams contended for the title. Stephanie Yakoff of Fort Lee, New Jersey and Natalia Perez of Guayabo, Puerto Rico., defeated Sophia Webster of El Segundo, California and Maren Urata of La Canada, California 6-2, 6-4 in the final.
Yakoff and Perez rallied in the Round of 32 to beat No. 14 Riley Crowder of Dothan, Alabama and Rose Seccia of New York 3-6, 6-1, 10-4 - the only set they lost in the tournament. Webster and Urata didn't lose a set until the final.
"This was the first time Stephanie and I played together," Perez said. "It is always fun to play doubles and it felt great to win the tournament.
Quevedo started playing tennis at age 7, and quit for a year at age 10 because she wasn't enjoying it. She began competing in golf - her dad, Alberto, was a golfer for Michigan State - but was eventually drawn back to tennis.
"Since then, I have really enjoyed it and loved it so much, especially from all my coaches at Gomez," Quevedo said. "They make it fun and they are all so helpful. I love competing every day and learning new things."
Right after her championship match ended, Quevedo jumped on a flight to Colombia to play in an ITF event this week. But she made sure to savor her gold ball triumph for at least a few minutes with her coach, Connor MacDonald, and her father before departing.
"I really have to thank my dad for everything he has done. He knows the process is hard to get to a high level, so he has been really supportive," Quevedo said. "He gave me everything I need, so I am just trying to use it all to get to where I want to be."
Full draws and results for the Girls 16s can be found here.
Leave a Comment
More Tournament Features
23-Jul-2021
Honer Wins First Gold Ball By Securing Girls 18s Title
Losing early in doubles at the USTA Clay Court National Championships had a silver lining for Amelia Honer. The UCSB-bound Pennsylvania native conserved her energy and walked away with a gold ball in the Girls 18s singles.
23-Jul-2021
Colby Makes Healthy Return to Win Boys 18s Title
Ryan Colby thought he may never play competitive tennis again after leaving the USTA National Clay Court Championships with a serious elbow injury three years ago. That made capturing the Boys 18s singles title this year even sweeter.
22-Jul-2021
Pinzon Prevails to Claim Boys 16s Title
Felipe Pinzon won four three-set matches on his way to capturing the USTA Boys 16 Clay Court National Championships singles title in Delray Beach, Florida. Caden Hasler and Dylan Tsoi won the doubles crown in their first tournament playing together.
About Rhiannon Potkey
Rhiannon Potkey is a veteran sportswriter with more than two decades of experience in journalism. Potkey has covered many sports at many levels and has a passion for finding great stories. Potkey has covered the U.S. Open, junior sectional and national events, college conference championships and Davis Cup matches. Potkey is currently Content Strategist for Tennis Recruiting. You can reach Rhiannon by email at
[email protected]
.