Special from
Zoo Tennis
KALAMAZOO, Mich. - Rain or shine, indoors or out, Alexander Razeghi shook off all distractions and excuses to earn the USTA National Boys 16s singles championship last week, defeating fellow Texan Lucas Brown 6-2, 6-3 in Sunday's final.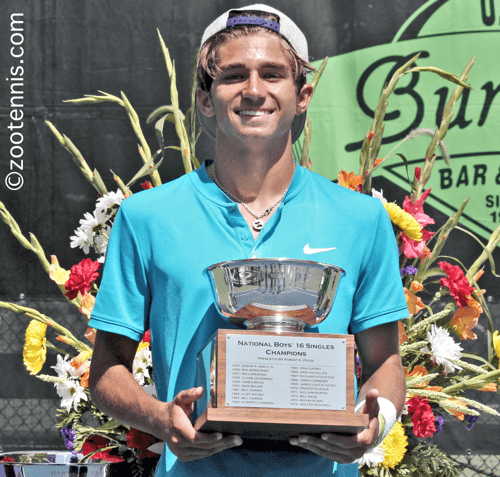 Singles Champion Alexander Razeghi
© Zoo Tennis

The 15-year-old from Humble, Texas also handled the pressure of the top seeding, rarely trailing in any match and losing only 24 games in his seven victories.
Until he encountered Brown, the No. 4 seed, Razeghi didn't face an opponent seeded above 20, which was the red number Nikita Filin had next to his name when he lost in the top half semifinal by a 6-1, 6-3 score.
Brown had dropped only one set on his way to the final, although he was challenged in the later stages of the tournament, particularly in his 1-6, 6-3, 6-2 semifinal victory over 14-year-old Cooper Woestendick, the No. 5 seed.
The final on Acker Court at Stowe Stadium was played under ideal conditions, with blue skies, mild temperatures and virtually no wind. So with the rain, heat and humidity that plagued the tournament's first six days gone, Razeghi could concentrate on a game plan for his first encounter with Brown, who is 18 months older.