Website News
YouTube Video at TennisRecruiting.net
by Dallas Oliver, 20 July 2007
The Tennis Recruiting Network is excited to announce its newest feature - video embedded in player profiles. Video allows coaches and fans alike to get a first-hand glimpse of junior tennis players.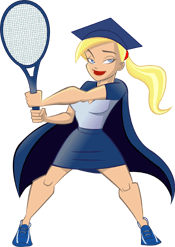 Coaches always want to watch their recruits play. Video of your groundstrokes, serves, volleys, and match play can allow coaches to get the information they need whenever they have the time. And videos are obviously compelling - nothing grabs attention like a video clip.
Embedding YouTube Videos
Where do people go to upload videos? YouTube, of course. YouTube is the undisputed leader in online video, and it is the premier destination on the web to share and view video content. YouTube allows users to easily upload video clips.
And now, players and parents can embed YouTube video clips directly on their player profiles at TennisRecruiting.net to enable easy access by the tennis community.
To upload video, just link to your player profile, click the Update link on your profile, and then click on the Videos link to get started.
Example Profile With Video
As an example, take a look at rising senior Ben Woldenberg. If you scroll down Ben's profile page, you will see a Player Videos section that has Ben's recruiting video. Clicking on a video thumbnail will allow you to view the video - and browse other available videos.
We consider Ben's recruiting video to be an excellent example because it so well-crafted. Approximately five minutes in length, it includes an introduction, several sections covering various technical components like groundstrokes and serves, and finally, match play.
The video includes everything a coach wants to see - and it is short enough that people will watch it. Great job, Ben!
Recruiting Advantage Video
Everyone can view video clips free of charge, but a premium Recruiting Advantage membership is required to link a video to your profile.
At TennisRecruiting.net, we review all content before it is posted. Reviewing videos is very time-consuming - and therefore costly. Requiring a Recruiting Advantage membership ensures that video submissions will be higher-quality, and it also helps cover the reviewing costs.
You can learn more about this - and all things video - by looking over our Frequently Asked Questions.
Upgrade to Recruiting Advantage Today!
YouTube video clips is just the latest feature at TennisRecruiting.net. And we are working hard to bring you more features in the near future.
Review our comparison matrix to learn about all the great features and services you get with Recruiting Advantage.
Then, treat yourself and upgrade today.
Leave a Comment
More Website News
9-Oct-2017
Countdown to Signing Day 2017
It's that time of year. We are less than a month away from the most important day on the college tennis recruiting calendar - Signing Day. November 8 is the first day of the one-week fall signing period, the only opportunity this calendar year for seniors to sign a National Letter of Intent with a Division I or Division II school. As always, the Tennis Recruiting Network and GAMMA are here to keep you up to date on everything.
4-Oct-2017
TRN Announces Community Service Initiative
The college level has a month designated for giving back and it's time for junior tennis to have a similar plan of action. TRN is announcing "First Serve For Community," a community service initiative meant to inspire players and teams to use their athletic platform to help others.
18-Sep-2017
Star Ratings - 2017-18 Fall Edition
After months of waiting, here they are... the Star Ratings. Find out right now how many stars you have - as The Tennis Recruiting Network proudly presents the Fall Star Ratings for 2017-18.