Who's Hot
Hot 100 List - August 2021
by James Hill, 24 August 2021
TheLotto Elite Hot 100 lists are published each month, and the August Hot 100 lists feature the 100 boys and girls who most improved their rankings during the month of July. You can find out more about the Lotto Elite Hot 100 - and how the lists are calculated - by reading here.
The latest lists, published today, are available here:
We talked to a few of these top performers:
Aidan William (West Lafayette, Indiana)
Aidan William distinguished himself in the month of July.
First, the 5-foot-10 right-hander reached the singles final of the ITA Summer Circuit at Notre Dame. Then, the three-star rising senior captured the Cracked Racquets ITA Summer Circuit title at Carmel, Indiana.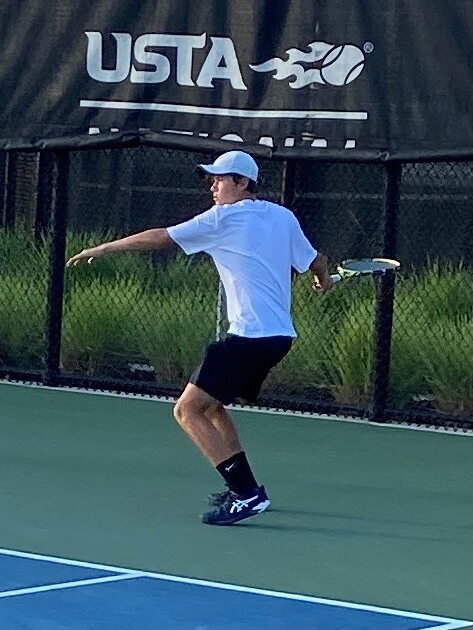 Three-Star Rising Senior Aiden William
© Contributed Photo
His wins propelled him from No. 180 to No. 158 in the TennisRecruiting.net Rankings. William has produced a recent record of 9-1.
"I credit my good play to the work I put in during the winter and spring, physically and mentally leading up to the summer," said William. "My serve was never a strong point in my game, so during the winter I worked with one of my coaches, completely changed it and made it a lot better.
"I also put a lot of time into my mental game, and the mindset I brought into my matches was a lot different than the mindset I had during the indoor season."
William said his best victory was over Eli Mercer in the Cracked Racquets final. The two are close friends and they know the match strategy of each other. William prevailed 7-6 (5), 6-0 in the championship matchup.
William works out at the Schwartz Tennis Center at Purdue University. His coaches are Joe Braden, Tim Madden, and Dani Vidal. Williams also trains at the Smith Tennis Program in Indianapolis, with Bryan Smith and Stephanie Hazlett.