Recruiting Profile
Denver Breaks the Ice, Lands Five-Star Driscoll
by Rhiannon Potkey, 22 November 2021
The request caught Caroline Driscoll off guard.
Before she made her official visit, Denver head coach Paul Wardlaw sent Driscoll a text message asking her to bring her ice hockey helmet.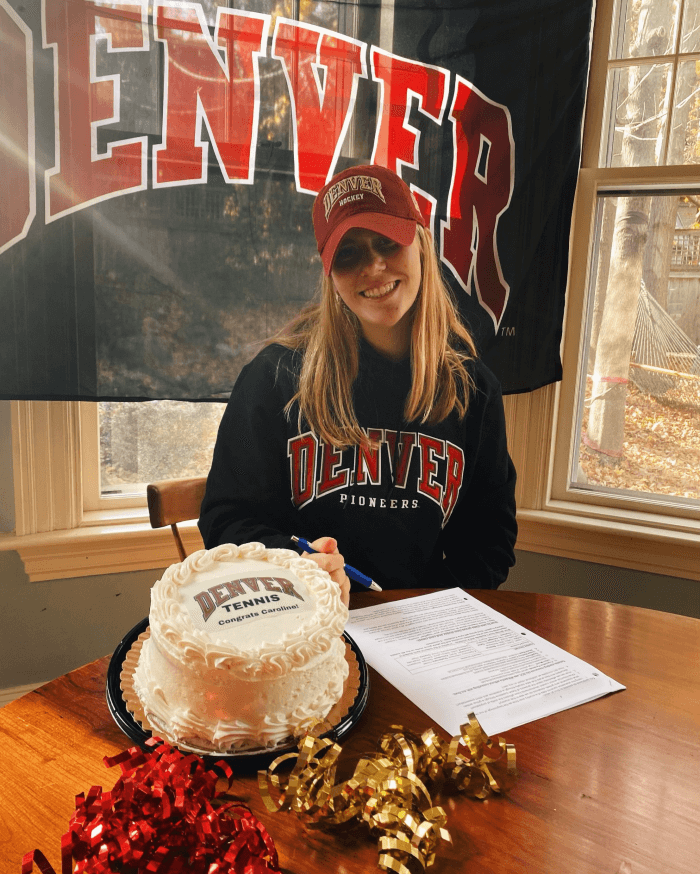 Five-Star Caroline Driscoll Signed With Denver
© Contributed Photo
Driscoll played 11 years of competitive ice hockey before focusing exclusively on tennis. The Brookline, Massachusetts native still loves the ice, and Wardlaw went the extra mile to personalize her visit.
Driscoll attended a hockey game to watch Denver's nationally renowned men's team, and received an added surprise the next morning. The five-star senior was allowed to spend an hour skating on the home ice.
"It was amazing," Driscoll said. "I felt so wanted, and that is what I really was looking for in a college. I wanted a place where I felt wanted by the coach and by the team. I definitely felt that way at Denver."
Driscoll signed with the Pioneers last week, joining her doubles partner, Olivia Dorner, a five-star senior from Williamsport, Pennsylvania.
The two first met at sleepaway tennis camp when they were 13 and quickly became close friends. But they didn't sign with Denver just because the other one did.
"I tried to think about what I would do if Olivia wasn't in the picture, so I made the best decision for myself," Driscoll said. "Once I heard that she committed, I was super excited and that made this experience even better. I am so excited that we can go together now."
Driscoll originally wanted to stay on the East Coast for college. She didn't even want to make a visit to Denver until Dorner revealed her plans.
"She was going to be visiting the same weekend, so I thought, 'Yeah. OK, I will go visit,' and I absolutely loved it," Driscoll said. "I literally couldn't picture myself anywhere else. Something just clicked while I was there."