Player Spotlight
Spotlight Players of the Week: Vincent Truong, Tallia Harper
by Rhiannon Potkey, 13 January 2022
SPOTLIGHT ON Vincent Truong (Fairfax, Virginia)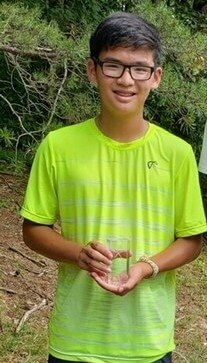 Music on your playlist: I listen to some rap like Juice WRLD and Lil Uzi to get myself hyped up for the match.
Dream vacation destination: Japan. It just looks really beautiful there. I know the food there is amazing. I just really want to experience that.
Favorite food: Sushi. I can eat it for days.
Favorite athletes: Russell Wilson. I feel like he is a shorter quarterback so he is defying the odds out there. I feel like he is really smart with his body as well and hardly ever gets injured. I also like Roger Federer. He is still so mentally tough and so calm on the court no matter what. That is something everybody wants to be like.
Future occupation: Probably something in the com sci field. I am not sure if it's on the management side or more coding. I will just see where it takes me.
If you could have dinner with anyone dead or alive, who would it be: Russell Wilson. I just want to meet him and ask him about his whole routine on the football field and off the field and how he balances everything. I know he is a really big family guy too and it must be hard raising two kids and playing football. I want to know how he does all that.
Must-watch show: You on Netflix. It's not like an exciting or upbeat show. It's really dark and deep and I enjoy that.
Favorite movie: Forrest Gump. It's so funny, and I could watch it over and over again.
If I am not playing tennis, I am … sitting at my computer playing games. That is the only thing I do in my free time, spend it on my computer.
Committed to: Christopher Newport University