College Feature
University of Saint Mary Prepares to Launch New Programs
by Rhiannon Potkey, 19 January 2022
Hunter Clark saw the job opening flash across his computer screen. It seemed to pop up out of nowhere, and it captured his attention.
The University of Saint Mary was looking for a head coach to launch their men's and women's programs.
Clark grew up in Overland Park, Kansas, which is about a 45-minute drive from the Leavenworth, Kansas campus.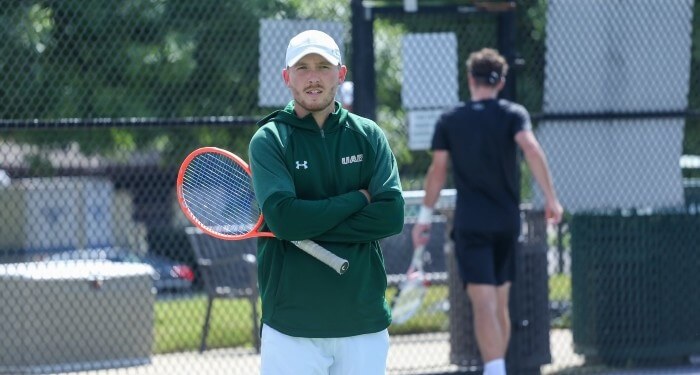 Hunter Clark Was Named USM's Head Coach
© Contributed Photo
"I felt like I should have heard of the university, but I never had," Clark said. "I saw they were starting the programs and it was semi-close to home, so I said, 'let's go for this and see what happens.'"
Clark got the job. At age 26, he's being entrusted with building two NAIA programs from the ground up.
The Spires will begin competing during the 2022-23 academic year. The teams will participate in the Kansas Collegiate Athletic Conference, which has 10 member schools with tennis programs.
Clark played three seasons at the University of Missouri-Kansas City. He most recently served as an assistant men's coach at the University of Alabama at Birmingham. Prior to that, he was a volunteer assistant for the University of Washington women's program and spent a season as an assistant women's coach at UMKC.
"It's a coach's dream to start a program and build something from scratch and bring in all your own players at one time," Clark said. "Opportunities like this in college tennis don't really come around anymore. A majority of the time schools are dropping programs more than anything else. The fact that a school is adding two programs is really great to see."