Special from
Zoo Tennis
SAN DIEGO - Sixteen-year-olds Liv Hovde and Learner Tien arrived at the Barnes Tennis Center for the ITF Grade 1 International Open of San Diego at different stages in their tennis careers. The top-seeded Hovde was taking aim on her third ITF title at that level, while Tien, seeded No. 12, had yet to reach a J1 final.
Both put on impressive displays throughout the rain-free week, with Hovde defeating unseeded Maya Crossley of Japan 7-6(5), 6-3 and Tien overcoming unseeded Kyle Kang 5-7, 6-2, 6-4 in Sunday's championship matches.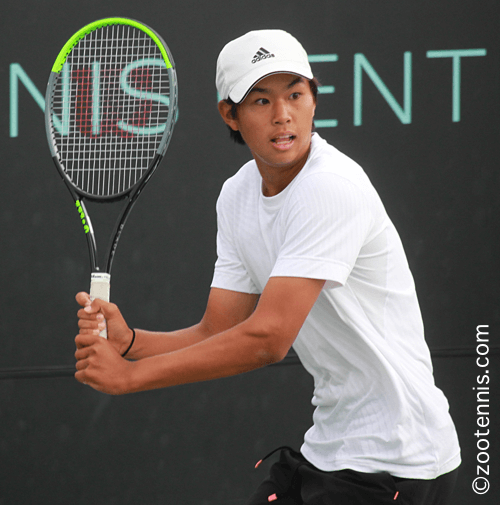 Boys Singles Champion Learner Tien
© Zoo Tennis
Tien had conquered three higher seeds en route to the final, defeating No. 6 Aidan Kim, No. 3 Michael Zheng, and, in the semifinals, No. 1 seed and defending champion Ethan Quinn 6-4, 6-2.
Kang, a wild card entry, beat No. 7 seed Alex Michelsen, No. 2 seed Nicholas Godsick and, in the semifinals, No. 5 seed Sebastian Gorzny 6-1, 6-1.
Although Tien and Kang had not played in many years, their history began back in Southern California sectional competitions in the 12s, with Tien from Irvine and Kang from Fullerton.
Tien, who was commuting to the tournament from his Orange County home, was quick out of the gate in the final, building a 4-1 lead. But Kang won six of the next seven games. That may have dented the confidence of some players, but Tien's perennially calm demeanor remained, as did his optimism.
"I lost four games in a row, but I felt like I was giving him points," Tien said. "He started to play better too, but I started giving him a lot more. So I felt that once I pulled back, making him win more points, instead of just giving them to him, I felt like I could take back control of the match more. I got away from what I was trying to do, but I came back to the game plan in the second that got me to 4-1."