Who's Hot
Hot 100 List - May 2022
by James Hill, 20 May 2022
TheLotto Elite Hot 100 lists are published each month, and the May Hot 100 lists feature the 100 boys and girls who most improved their rankings during the month of April. You can find out more about the Lotto Elite Hot 100 - and how the lists are calculated - by reading here.
The latest lists, published today, are available here:
We talked to some of the top performers:
Tristan Ryerson (Boca Raton, Florida)
Tristan Ryerson credits his recent success to improved and effective training methods.
The 5-foot-8 right-handed three-star posted a 12-2 record and jumped in the Tennis Recruiting Network Boys Rankings from 231st to No. 205. Ryerson captured the Boys 16s L4 Open Torneo Juvenil at Bayamon, Puerto Rico, as well as reaching the finals of the L5 Open at Naples, Florida. He also was a semifinalist at the Battle of Boca at Boca Raton.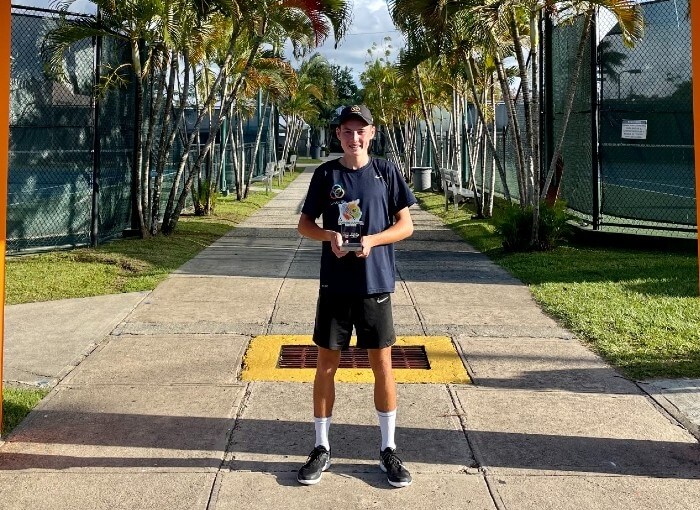 Three-Star Sophomore Tristan Ryerson
© Contributed Photo
"I have been working extremely hard on using my legs more, and have been using OnCourt Off Court Flex Trainer bands to keep me at an athletic position at all times," Ryerson said. "That helps me to hit the ball cleaner, heavier, deeper and with more pace, which puts my opponents more on the defensive."
Ryerson is a sophomore at the Grandview Preparatory School, in conjunction with the Evert Tennis Academy in Boca Raton.
His coaches are Bradley Holt of the Evert Academy and Amine Khaldi of the Gold River Racquet Club at Gold River, California. Ryerson is working with his coaches on service placement and consistency, and said his serve has "become a weapon for his tennis game."
"One advantage I have is that my cardio and physicality are in top form," Ryerson added. "My ability to stay positive and pump myself up is one of the biggest advantages I have in a match."
Ryerson said his best victory was in the semifinals of the L4 event In Puerto Rico, when he won a three-set battle with Caleb Zimmerman (Harrison, New York). He won the first set 6-1, lost the second 6-4, and claimed the third in a 10-point tiebreak. Ryerson was down 2-8 in the breaker, climbed to 8-all, and was down two match points. He prevailed 12-10 and advanced to the tournament final, which he won over Alec Martinez (San Juan, Puerto Rico), who is also featured below as a Hot 100 riser.
Ryerson's mom and dad are JM and Lisa Ryerson. His mom, a teaching pro at the time, started him off in the sport of tennis. Ryerson became serious about the game at the age of 11.
"TJ is one of the most athletic kids to step on the court every time he plays," Ryerson's parents said. "He is fast, he competes and will never give up. When you mix in the work ethic he possesses, good things will come."
Ryerson maintains an excellent 4.2 grade point average in school and is an honor roll student.
"I have a group of schools I have put on my dream board," Ryerson said in regards to college. "I am clear that I want to go to a school that has great academics and a solid tennis program."