Who's Hot
Hot 100 List - June 2022
by James Hill, 22 June 2022
TheLotto Elite Hot 100 lists are published each month, and the June Hot 100 lists feature the 100 boys and girls who most improved their rankings during the month of May. You can find out more about the Lotto Elite Hot 100 - and how the lists are calculated - by reading here.
The latest lists, published today, are available here:
We talked to some of the top performers:
Isabelle Einess (Minneapolis, Minnesota)
Isabelle Einess jumped from 188th to No. 147 in the Girls Rankings of Tennis Recruiting Network.
Sporting an 8-2 singles record, the 5-foot-4 right-handed four star won the 16s title at the L4 Rochester Athletic Club Open in Rochester, Minnesota. Einess also reached the semifinals of the 18s event.
"I have been working on building strength and spending lots of hours on the court improving my skills," Einess said. "To build my strength, I spend my time lifting and swimming. Before I started playing tennis seriously, I was a competitive swimmer. I now use swimming as an efficient way to build strength.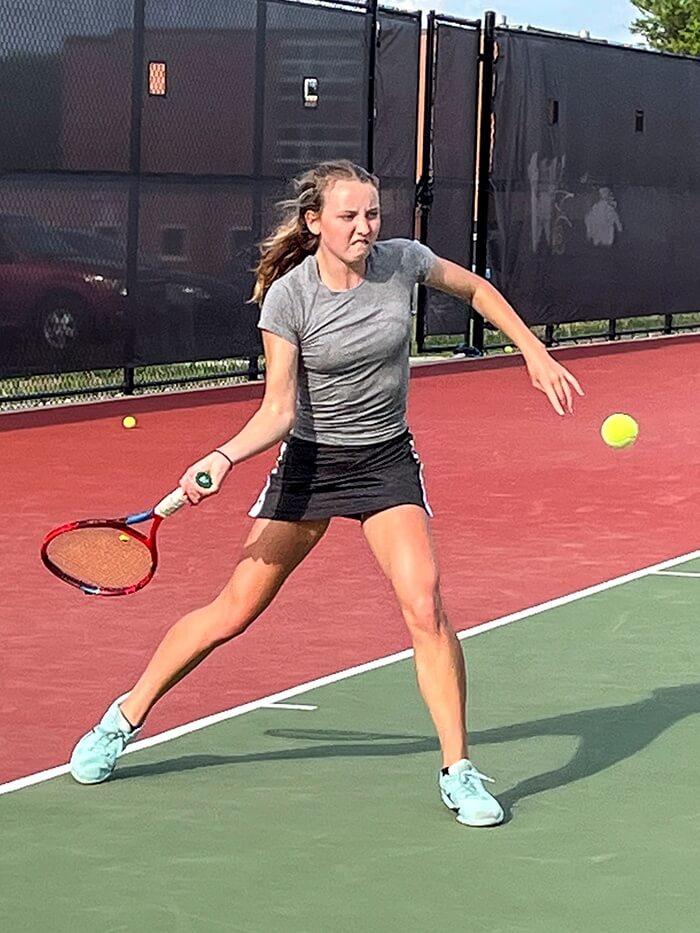 Four-Star Rising Junior Isabelle Einess
© Contributed Photo
"I find that lifting and swimming help me not to wear down, and sustain my level of play in matches. In addition to working out, spending many hours on the court has been crucial."
Einess goes through her training regimen at SLP Life Time Fitness in St. Louis Park, Minnesota. Her coaches are Wyatt and Brian McCoy, a father-son coaching team. Einess is working on staying up on the baseline to take away time from her opponents. This also helps her create more effective angles. She is also working on adding variety to her game, such as developing an effective slice to get the opponents out of rhythm.
"When I first started playing, I was a counter-puncher and played a lot of defense. I have been able to emerge as an aggressive baseliner," she said. "I like hitting powerful groundstrokes from the baseline to force errors or hit winners. My biggest strength is my forehand, because I am able to hit it with a lot of pace."
Last year, Einess attended Minnehaha Academy in Minneapolis. A member of the school's tennis team, Einess went undefeated at No. 1 singles and advanced to the state finals. She is moving soon to Golden Valley and will enter the 11th grade at the Breck School.
A versatile student, Einess plays the alto saxophone in a concert band and "loves creating music."
"I want to start getting on people's radar (for college), because I want to continue my game and play college tennis," Einess said. "I am interested in playing college tennis, but I need to continue researching the different programs and choose the right college that fits my academic and tennis goals."
Her parents are Jon and Sue Einess. Mom and dad introduced her to tennis at the age of 9, starting her out with a beginner's group called "Super Saturdays." Einess began playing tennis everyday and she developed into a competitive player.
"Isabelle works very hard and the results of hard work are not always linear," Einess' parents said. "She likes tennis for quite a number of reasons, including she has good friends and family who play, it is a suitable outlet for her competitiveness and it is always fun (for her) to hit a ball."
Logan Tomovski (Murrells Inlet, South Carolina)
Logan Tomovski is now ranked 150th in the Tennis Recruiting Network Boys Rankings, jumping from the 175th position.
The 5-foot-10 right-hander posted an 8-1 record, which included the 16s title at the L5 Closed Palmetto Championships at Belton, South Carolina.
Tomovski said his best match was in the semifinals of the tournament, when the four-star recruit beat Graeme Angus (Beaufort, South Carolina). The eventual champion said he was cramping in the second set and "willed his way" to a win.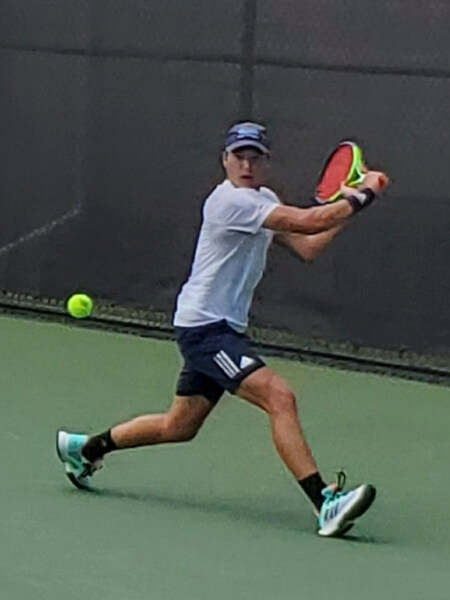 Four-Star Rising Junior Logan Tomovski
© Contributed Photo
Tomovski credits his recent success to practice sessions with the Coastal Carolina University Chanticleers men's tennis team, an NCAA Division I program located in Conway, South Carolina.
"I've been hitting more with CCU players in the last several months," Tomovski said. "It's made the pace of a junior ball easier to handle. When you are able to attack the heavy ball of a college player, it's easier to do that against other 16-year-olds."
Tomovski is coached by David Bromberg and Nicolas Planchard of the Stables Tennis Center in Pawleys Island, South Carolina. He is working with his coaches on his first serve and being more aggressive on his first shot.
"I am naturally a counter-puncher who likes to work my way into a more aggressive position as the point evolves," Tomovski said. "My biggest strength has traditionally been anticipation and court coverage. What distinguishes me from other players is my will to win. I don't quit when matches look lost. You have to give yourself the chance to win, and your opponent the chance to lose."
Tomovski's parents are Alex and Rachel Tomovski. His dad was a collegiate player for York University, located in Toronto, Ontario. Tomovski's older brother, Braedon, is a former player,and is the younger Tomovski's "built-in practice partner."
"His strength training is beginning to pay off," Tomovski's parents said. "He is naturally competitive and loves the one-on-one aspect of the game. There are three things which distinguish him from other players: his ability to problem solve during a match; a temperament which allows him to play the same at 1-1 in the first set or 8-8 in a third-set tiebreaker; and the insatiable desire to win regardless of the score."
Tomovski is a rising junior at Waccamaw High School in Pawleys Island. He went undefeated in team play this year and was runner-up in the state high school individual tournament.
"I haven't thought much about (college) too much," Tomovski said. "I will start doing so next year as a junior. My dad and I have talked about a couple of schools in Texas, Florida, and South Carolina. The most important thing about a program is a tradition of winning and competing."
Vessa Turley (Scottsdale, Arizona)
Vessa Turley now stands at No. 57 in the Tennis Recruiting Network Girls Rankings, rising from the 73rd position, with an 8-0 record.
The 5-foot-10 right-handed five-star recruit distinguished herself by winning two ITF Junior Tour J5 18s events at Christiansted, U.S. Virgin Islands.
"During the last month, my coach and I have been very focused on my consistency and shot selection during matches," Turley said. "This improves my game significantly because I was able to control and work the points better when I am focused on these factors. We've also worked on staying positive, while I keep my mentality stable."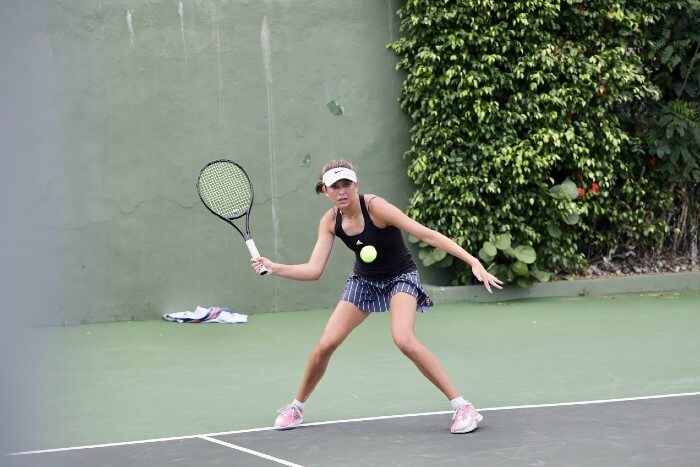 Five-Star Rising Sophomore Vessa Turley
© Contributed Photo
Turley's coach is Ali Borhani, a private full-time and travel coach, who lives in Scottsdale.
"Ali and I are always working on my footwork and court positioning, while defending the backhand corner," Turley said. "From this, my opponents have less weak spots to pick during matches. We also have worked on my transitioning from the baseline to the net. I've never had a coach help me believe in myself as I do now at this level.
"I am a player who likes to dictate the points from the first shot. This includes starting off points with a big serve and looking for ways to open up on the court. One of my biggest strengths is my net game. At the net, I feel very comfortable and I'm able to put volleys away easily."
Turley just finished her freshman year at Arcadia High School in Phoenix. She played the top line of singles for her school and went undefeated, including winning the Class 2A state high school championship. Her team finished as state runner-up.
An outstanding student, Turley takes honors classes, and is also enrolled in a seminary class. Turley is involved in community service with the National Charity League.
College is three years away, but Turley has given school selection some thought. She would love to be part of a program where coaches encourage playing pro tennis while in college. Turley also said it's very important to her to compete in a program where the team feels like family or home.
Her parents are Andrew and Deidre Turley. She said her mom always loved racquet sports and encouraged her to give tennis a try.
"Vessa has always been a player who thrives in the big moments and loves a crowd, either cheering for her or against her," Turley's parents said. "She has been giving more attention to the details, like developing the point. She's an all-court player with elite hands and a 'live arm' with a punishing first serve, coupled with a nasty second kick-serve. Vessa also loves seeing the world and is wildly independent when it comes to the international circuit."
Stiles Brockett (Fairfax, Virginia)
Stiles Brockett is now playing in blue chip territory.
The 6-foot-2 right-handed five-star recruit has risen from 36th to No. 17 in the Tennis Recruiting Network Boys Rankings. Brockett posted a recent record of 15-3, including winning the Boys 16s Battleground Tennis L3 Closed event in Fredericksburg, Virginia.
Brockett also had success in Peru, reaching the finals of 18s tournaments played in Lima.
"I have had good momentum these last couple of weeks," Brockett said. "I think I am starting to turn that corner. It is all due to the time and effort I put into practices. I've been taking care of my body, training hard, and always giving my very best in matches."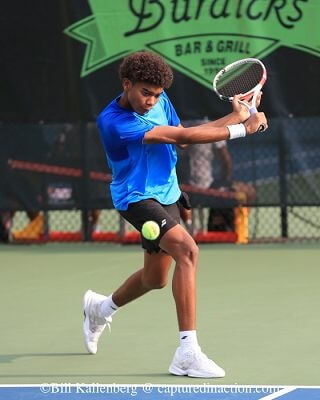 Five-Star Rising Junior Stiles Brockett
© Bill Kallenberg
Brockett has posted some significant wins, but the one of which he is most proud was against Peruvian Josue Guzman, in the quarterfinals of the L3 Lima Open. Brockett took the opening set 6-0, lost the second 3-6, and won the third 6-4.
"I was down a break in the third, and feeling very tired," Brockett said. "I just decided to fight as hard as I could, and, in the end, I got the win."
Brockett trains at the Junior Champions Tennis Center (JTCC) in College Park, Maryland, with Asaf Yamin and "other high-performance coaches." He said the coaches are working with him on "having the same mindset, every match, every point, and never taking a point off."
"I would say I am a very aggressive player," Brockett said. "I like to finish points inside the court with my forehand, moving forward. My biggest strengths are my forehand, and my ability to cover the court.
"I think the biggest thing I have going for me is that I can match up with any guy from the ground. I have confidence in my movement and ground strokes, and that I can go toe-to-toe with any guy on the junior tour."
Brockett is a 10th-grader and studies at Laurel Springs Online School. He takes honors classes, and said "my parents have always made sure I am a student first, and then an athlete." He would like to attend a college which "helps him grow as a player and as a man,"
His parents are Tilford and Sharon Brockett. Brockett's mom signed him up for the sport of tennis at the age of 5.
"Stiles' natural athleticism, calm demeanor, and quick learning are some attributes that set him apart from other tennis players," Brockett's parents said. "We credit the training at JTCC with coaches who teach him proper shot selection, tennis IQ, and mental toughness. The response from Stiles has been very positive."
Presented by Lotto Elite
Are You Elite?

Lotto Elite is proud to be the presenting sponsor of the Lotto Elite Hot 100.
It's no coincidence that nearly 200 professional players represent the Lotto brand on the ATP and WTA tours, making it the third most visible brand behind only Nike and adidas, respectively. The Italian design and performance features make Lotto product highly sought-after at every level of competition.
The heritage of Lotto Tennis is rich with Grand Slam and Davis Cup champions, from Wimbledon Champion John Newcombe and Italian Davis Cup Champion Tonino Zugarelli, to Grand Slam Champions Martina Navratilova and Boris Becker.
Lotto Elite is a preferred pricing program designed around and for the coach and player, not the brand. We don't think a ranking or rating defines you as a player. We think your grit, determination, love of the grind, attitude and so much more, both on and off the court, define you as a person and makes you Elite.
This is why we wanted to partner with the Hot 100 list. We believe this group of players embody what it means to be Elite. Whether you're a 2-star or Blue Chip recruit, being on this list means you put yourself out there, went for it, and accomplished a goal. Keep Grinding.
Learn more about the Lotto Elite program by clicking here. You can also connect with us on Instagram or Facebook.
Leave a Comment
More Roundup Articles
20-May-2022
Hot 100 List - May 2022
It's time to unveil the May 2022 edition of the Hot 100. The Lotto Hot 100 features 100 boys and 100 girls who have been playing outstanding tennis. These players have substantially improved their rankings over the past month.
15-Apr-2022
Hot 100 List - April 2022
It's time to unveil the April 2022 edition of the Hot 100. The Lotto Hot 100 features 100 boys and 100 girls who have been playing outstanding tennis. These players have substantially improved their rankings over the past month.
14-Mar-2022
Hot 100 List - March 2022
It's time to unveil the March 2022 edition of the Hot 100. The Lotto Hot 100 features 100 boys and 100 girls who have been playing outstanding tennis. These players have substantially improved their rankings over the past month.
About James Hill
James Hill is the Assistant Sports Information Director at Trinity University in San Antonio and a freelance writer. He has covered all levels of tennis competition.