Recruiting Profile
Four-Star Smith Joins Close Friend By Committing to UC Davis
by Rhiannon Potkey, 1 August 2022
There was no grand plan in mind when Katelyn Smith's parents signed her up for a tennis lesson alongside her sister and some of friends. They just wanted them all to have fun.
Smith was only 5 years old at the time, but was the only one who stuck with it. She would hit balls against the garage by herself. Her parents noticed how much she enjoyed it and kept her involved in the sport.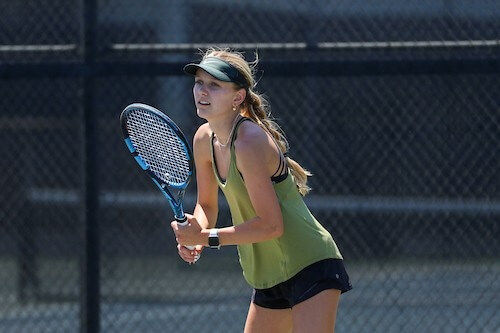 Four-Star Katelyn Smith Has Committed to UC Davis
© Contributed Photo
It resulted in Smith achieving a goal of becoming a college recruit. The four-star rising senior from Laguna Beach, California has committed to UC Davis.
Smith toured a lot of Division III schools back East, and UC Davis was the only school in California she was considering.
Smith began communicating with UC Davis head coach Bill Maze early in her recruiting process. Once her close friend, Mika Ikemori, a five-star rising senior from Huntington Beach, California, committed to the program, she told Maze more about Smith.
"I met the team and the coach and toured the campus and everything just kind of felt right," Smith said. "Everyone on the team was super, super nice and I loved the head coach and assistant coach. Overall, I just loved it."