Special Feature
Redshirting in College Tennis
by
Colette Lewis
, 21 February 2008
Typically associated with football players, the term redshirt is frequently applied to student-athletes who spend their first collegiate academic year attending classes, practicing and working out with the team, but not competing in games.
Tennis players at Division I and II also have this option, and Drew Daniel, a freshman at the University of Michigan, is taking advantage of it.
"There's really no downside at all to it for me," says the 18-year-old from Overland Park, Kan. "I get to practice every day with these guys and I get a semester ahead in school. Otherwise I'd probably be sitting at home doing nothing."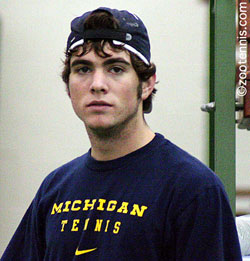 For Daniel, whose eligibility for ITF junior tournaments expired at the end of 2007, starting school last month made sense, according to Michigan head coach Bruce Berque.
"He finished up all his classes in online schooling in November and he's done with junior tennis, so I think he was ready to get started," Berque says.
"Because he's been in the homeschooling program for a while, he hasn't been used to being in a structured school environment, so by coming now and getting 12 credits under his belt without the pressure of having to travel and compete, he could get better acclimated," says Berque, who is redshirting a player for the first time in his four years at Michigan. "Plus he's been changing academies and coaches fairly frequently, so now he's in a consistent training environment, which I think is good for his tennis as well. And lastly, I think he was ready to get with a group of guys who are his friends. It's a fun environment to be a part of."