Tournament Feature
Oudin Earns Fifth Major ITF title, Buchanan Gets His First at Easter Bowl
Sock and Tsay Claim 16s Titles; Rinaldi and Vickery Capture 14s Crowns
by
Colette Lewis
, 17 April 2008
ITF B1 Closed
Melanie Oudin and Chase Buchanan joined forty years of Easter Bowl champions last week in the desert heat of Rancho Mirage, Calif., earning titles in the second of two April ITF Grade 1 events held in the Golden State.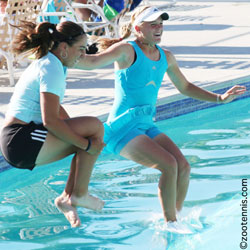 Oudin, a 16-year-old from Marietta, Ga. is a veteran of the often grueling back-to-back ITF scheduling, winning last December's
Eddie Herr title
, then reaching the final of the
Orange Bowl
the following week. With a 6-7(1), 6-1, 6-3 victory over unseeded
Lauren Embree
in Saturday's final, Oudin exceeded that run of excellence, adding the Easter Bowl crown to the
International Spring Championship
title she earned the previous Sunday in Carson, Calif.
Chase Buchanan, also 16, had reached the semifinals in Carson, and when No. 2 seed Jarmere Jenkins, who had beaten him there, was unable to take the court for his second round Easter Bowl match following a rotator cuff injury, Buchanan, the No. 4 seed, became a favorite. His cause was also helped by Frank Carleton's upset of No. 1 seed and ISC champion Bradley Klahn in the third round.
In the final, Buchanan was heavily favored over No. 13 seed Alex Llompart of Puerto Rico, who had upset No. 3 seed Tennys Sandgren in the semifinals. Buchanan came out firing; he hit four winners on the first four points and never let up, taking the 6-1, 6-0 decision in just under an hour.