Tournament Feature
Dabrowski and Britton Conquer International Grass Court Fields
by
Colette Lewis
, 19 June 2008
Seventeen-year-old Devin Britton was making his third attempt at a U.S. Junior International Grass Court Championship, while 16-year-old Gabriela Dabrowski was playing in her first event on the surface, but both conquered the Philadelphia heat to claim singles titles last week at the Philadelphia Cricket Club.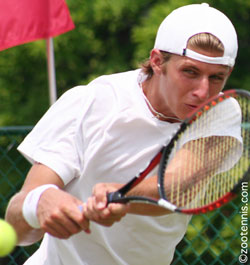 Britton downed 2007 Grass Court finalist
Ryan Lipman
6-3, 7-6(7) to earn his first ITF title in over a year, using an impressive week of serve-and-volley tennis to get through the tournament without dropping a set.
The 6-foot-3 right-hander from Jackson, Miss., has the classic game style for the quick and often quirky bounces on grass. In the final, he was especially pleased with the effectiveness of his serve.
"I served unbelievably," said the fourth-seeded Britton, who did not face a break point until the 12th game of the second set. "My serve is what got me through it. We both served pretty well, but I think I had a better first serve percentage."
Lipman, who is as fond of the surface as Britton is, uses his variety of slices, lobs and volleys to befuddle those with less nuanced games. But against Britton's outstanding serving, he was unable to showcase those skills with any frequency.
"He served great pretty much the whole match," said Lipman, a 17-year-old from Nashville, Tenn., who was unseeded in the tournament's 32-draw. "He just made a lot of first serves, and my strategy didn't really work out because I couldn't really touch any balls."
Lipman broke Britton when he had to, at 6-5 in the second set, benefiting from a double fault and getting a good look at several second serve returns, including a return winner on break point. In the tiebreaker, both players hit some dazzling winners, despite the heat and humidity and the pressure of the occasion. At 5-5, Britton pounded an ace to earn his first match point of the afternoon, to set up a point worthy of any Sports Center highlight reel. Lipman followed his second serve to the net, and a rapid-fire exchange of five or six volleys ended with Britton diving, but failing to get yet another unlikely response back over the net.