Nationals Feature
Top-seeded Brodsky Takes USTA Girls 18s Title
by
Alana Marcu
, 15 August 2008
With few upsets, injuries, and withdrawals, this year's competition at the Girls' 18 National Championships proved to have one of the strongest depths of field USTA has seen in a while.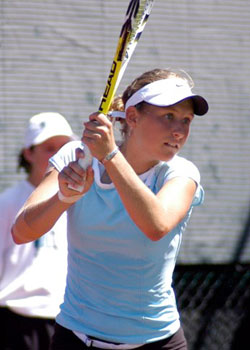 Number one seed
Gail Brodsky
came out on top in the singles competition as expected. She suffered some minor bumps throughout the week before finally cruising over third seed
Coco Vandeweghe
in the final, 7-5, 6-1. Brodsky, along with parthner
Mallory Cecil
, reached the doubles final but the end result proved to be very different. The number one seeds took second place due to a point penalty that resulted in a failure to win the doubles title and championship match.
"Kids had been told all week long not to tick the courts," co-director Jennifer Pitzen said regarding the incident, "It's a shame that Brodsky and Cecil had to go out like that, but the call was fair." At 4-5 in the third and final set, Advantage Hampton, Brodsky hit the court with her racquet out of frustration causing the umpire to call, game, set, championship to Hampton and Vandeweghe.
Brodsky's self-defeat proved to favor 5-year veteran, Jamie Hampton who won the doubles title along with partner Vandeweghe for a final score of 7-5, 4-6, 6-4. Hampton, also recipient of the Maureen Connolly Brinker award at this year's event took home the doubles title last year as well with partner Melanie Oudin. "Jamie played beautifully all week long. She is just so gracious and mature," said Pitzen.