College Commitment
Countdown: Hook 'Em Whitehead
by James Hill, 28 October 2008
Daniel Whitehead of Sugar Land, Texas, will soon become a University of Texas Longhorn.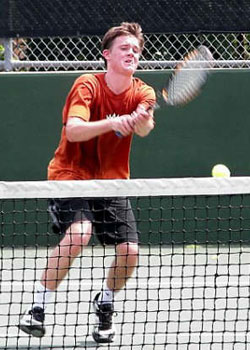 The 17-year-old Whitehead, who turns 18 next month, will sign a letter of intent with the Texas team coached by Michael Center.
"I wanted to stay at a school in Texas," said Whitehead, who also considered Rice, TCU and Texas A&M. "They answered all of my questions, and I became convinced that Texas was where I was supposed to go. They have such as great tradition and I love the big-school program."
Whitehead is currently ranked No. 36 nationally in boys 18 singles. He has held a ranking as high as No. 21 on the national list. Whitehead advanced to the Texas Super Championship Excellence finals and to the 2007 USTA Boys 16 National Open semifinals. The talented Whitehead is sporting an overall record of 40-13 and is ranked No. 2 in Texas.
But tennis is only part of Whitehead's life.
His mother, Jan, is in charge of Whitehead's home school program. He begins his studies at 8:30 a.m. and concludes at 3 p.m.
Then, it's off to the Westheimer Indoor Tennis Club in Houston for intense two and three-hour workouts. Weight training is also part of the rigorous regimen. The 5-foot-10, 150-pound Whitehead is part of King Daddy Sports, a year-round tennis training and development program.