College Commitment
Fall Signing Week '08: Cyclone Jenna
by
Ali Jones
, 12 November 2008
Jenna Langhorst has committed to Iowa State for one reason: Coach Armando Espinosa.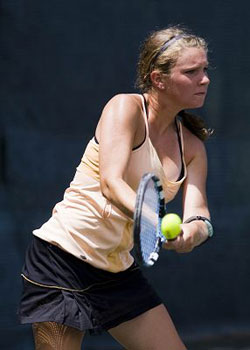 "He has already impacted the tennis program a lot," she says.
Espinosa, after having served as assistant coach at several universities, has officially taken on the reins at Iowa State, after serving as assistant and interim head coach.
"We are turning some heads in the early fall season," Espinosa said in a press release. "We beat Kansas State's No. 1 doubles team and have had a good fall. The girls are starting to believe in our progress."
Espinosa's degrees are in sociology, criminology and justice studies, but his heart always belonged to tennis. And that's what pulled Jenna to the Cyclones.
She considered Missouri, Wyoming and Gonzaga, but she will be following her mother Linda's footsteps to Iowa State.
Her mother is a retired gym teacher, as is her father, Wayne. Sister Ashley is at Baylor working her way toward a career in education as well. Jenna plans to major in industrial engineering.
College seemed so far off when Jenna began playing at age six at local clubs around her hometown of Palatine, a Chicago suburb. From the Windy City (10 million in population) to the small town of Ames (half a million), Jenna, however, is more than ready to leap into college life.