Tournament Feature
Sock and Yee Each Win Two Crowns at Winter Nationals
by Julie Wrege, 3 January 2009
Arizona welcomed the players just after Christmas with some very cold weather, but the chill could not cool off the eventual champions in the USTA Winter National Championships.
Boys' 16s
Jack Sock (Overland Park, Kan.) has been plagued with injuries for a couple of years. But this week Sock proved he is back and is playing pain-free.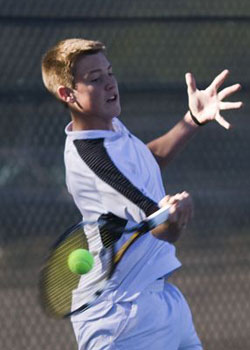 Boys' 16s Champion
Jack Sock
© Julie Wrege, TennisRecruiting.net
Sock was hardly tested in his first 6 matches.
"I started off playing pretty well, and it continued the entire tournament. I hadn't played outside since October except for the Orange Bowl, so at the beginning of the week I had to get used to the outdoors."
Sock took on Shane Vinsant (Nacogdoches, Tex.) in the final in both singles and doubles. Vinsant had had a more difficult route to the singles finals, but he had played brilliantly.
Sock started strong on the last day and never allowed Vinsant in the 6-1, 6-4 match. Sock then teamed with Spencer Simon (Santa Barbara, Calif.) to defeat Vinsant and Emmett Egger (Issaquah, Wash.) 7-6(4), 4-6, 6-3.
"I played better and better with each match. My coach, Mike Wolf (Mike Wolf Tennis Academy, Overland Park, Kan.) helped me every step of the way."