Who's Hot?
Prince Hot 100 List - March '09
by Julie Wrege, 16 March 2009
Daylight Savings Time - and the warmer temperatures that come close behind - brings longer days and better tennis. Throw in the fact that Spring Signing Week is less than a month away, and we are ready for another "busy time" at TennisRecruiting.net.
Today, we renew a regular feature at the website - the Prince Hot 100.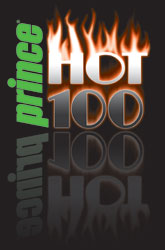 Each month, the Prince Hot 100 features junior players who have been performing well on the court - players who are rapidly climbing the rankings by winning matches against quality competition. These March lists feature the one hundred boys and girls who most improved their rankings during February 2009.
You can find out more about the Prince Hot 100 - and how the lists are calculated - by reading here.
Here are the Prince Hot 100 lists for March 2009:
We visited wth several of these top performers...
Girls' Roundup
Rasheeda McAdoo (Miami, Fla.)
People often ask how to get on the Prince Hot 100 List. One sure-fire two-step method is to (1) win a National Open in your age group and (2) play up in a strong sectional tournament and lose only one match. This is exactly what Rasheeda McAdoo did during the month of February. That performance lifted her ranking almost thirty spots from #106 up to #78 in the Class of 2013.
Florida Designated
in Altamonte Springs. After dropping the first match to 4-Star freshman
Christine Guerrazzi
(Sarasota, Fla.), McAdoo ran the table with five straight victories in the consolation event.
She followed that up with a championship at the the National Open in Dothan, Alabama.
McAdoo is most proud of her championship match at that Open.
"I was plaing in the finals against [Blue Chip 7th-grader] Hannah King (Dunwoody, GA). It was a very tight match, but I won 6-4 6-4. Hannah is a very good player and competitor. But I was able to break her serve in both sets."
The 5'8" right-hander's main coach is Alejandro Martinez at the Evert Academy in Boca Raton. She also works with Mandy Wilson and Johnmark Jenkins on other aspects of her training, such as fitness.
"I'm always looking to improve my serve. Right now we are working on my serve-and-volleys - taking advantage of my speed. I also like to play with [WTA tennis pro] Ahsha Rolle when she's not too busy with the tour."
McAdoo, who attends the Boca Preparatory International School, comes from a family where everyone plays tennis.
"From my parents, to my older siblings, to my younger brother, everyone loves tennis in my family. My older brother Mack is 36-years-old, and he is a tennis coach in Montclair, New Jersey.
McAdoo's parents are Robert and Patrizia McAdoo. She was born in New York, but the family moved to southern Florida.
Her parents give some insight into McAdoo's successes.
"Rasheeda understands the importance of quality training instead of quantity. She has recently shown a higher level of maturity.
"She is a versatile player -- she finds it easy to adjust to any surface and any speed. She can play great offensive and great defensive games.
One last fun fact? McAdoo is half Italian, and she speaks Italian fluently. Appropriately, she enjoys playing on red clay.
Paula Guimaraes (Granger, Ind.)
After a two-year break from tennis due to "growing pains," junior Paula Guimaraes took to the practice courts last October and started entering challenger tournaments. Last month, she posted a 7-2 record in a pair of Midwest sectional tournaments to push her ranking 60 spots to #163.
Jill Pastunink
(Zeeland, Mich.) at the
Wisconsin Junior Indoor Championship
who I lost to in a tie breaker; and
Caroline Bauer
(Winnetka, Ill.) at the
Western Michigan Indoor Championship
[whom she beat 2-6, 6-2, 1-0].
"Both girls are amazing tennis players who I enjoyed competing against. They are the kind of players who bring the best out of you - a good reminder of why I compete. Playing against Jill and Caroline, I had to fight for every point. Both matches were decided in three sets with just a couple points difference."
Guimaraes is the daughter of Anastasia and Daniel Guimaraes. Her father Daniel serves as her coach. He spoke about the challenges that come when returning to competition from a hiatus.
"When you take time off from the game, you learn very quickly that the ranking system is not forgiving with respect to your acceptance into higher-level tournaments," said the elder Guimaraes. "Last month Paula was accepted into such tournaments through the alternate lists process. We credit her good results to the opportunity to play at these higher-level events."
The 5'11" high school junior appreciates the opportunity to work with her father on the court.
"My dad is the only coach I've ever had. He helps with the training of a couple other junior players at the South Bend Racquet Club [in Mishawaka, Ind.]. We are currently placing more focus on my serve and my fitness.
Guimaraes describes her game as a power game.
"I rely on consistent ground strokes, and I love to hit a hard ball. However, I would consider my ability to stay mentally tough throughout the entire match my biggest strength."
Guimaraes always wanted to play other sports, but her parents encouraged her to focus exclusively on one sport so "I could develop to my fullest potential. I chose tennis, even though I can throw a mean football. In fact, last summer I won a radio contest by throwing a football. It was pretty sweet. The prize was two tickets to a water adventure park."
Guimaraes is bilingual. She speaks Russian and English fluently. And she is also in her 7th year of Kumon Math studies.
"Kumon requires me to invest significant time on a daily basis toward mathematical problem solving."
"I also have a passion for traveling and meeting new people. I am lucky to have lived in three countries and to have traveled to many others."
Boys' Roundup
Robert Levine (Bedford, N.Y.)
Robert Levine has been on a roll since the last weekend in January, when he racked up 10 wins in L1 Easterns - winning the championships in both Brewster and Albany. He then kept up his winning ways, rolling up a 12-2 record in February. His ranking in the Class of 2015 currently stands at #59.
Winter National Championships
," said Levine. "I had a very close match there with [Blue Chip 6th-grader]
Jared Donaldson
(Cumberland, R.I.). Even though I lost, I saw that I could compete well with a top player.
Which recent win stands out most to Levine? A 6-3, 6-0 victory over 4-Star 7th-grader Kyle Mautner (Greenwich, Conn).
"He was the #1 seed at the Eastern Designated Closed Championships," said Levine. I faced Kyle in the semi-final round, so I knew I would need to get past him to win the tournament. Kyle is a very steady player who rarely makes unforced errors. I knew that I was going to have to take control and do something to win each and every point.
"I started out playing the match very aggressively. Midway through the first set I started to rally with him more, but as soon as I had a chance, I was able to follow my plan to end the points aggressively. I was very happy with the way I focused and played that match."
Levine was able to build upon this win and have a great National Open in Latham, NY.
"My only loss in the National Open came in the quarterfinals [once again, to Donaldson]. I still felt good about the way I was playing and I won all three of my consolation matches to take fifth place."
Levine trains with Jay Devashetty at the Randy Mani Tennis Academy in Brewster, New York, and he attends the H.C. Crittenden Middle School in Armonk.
"Right now my coach and I are working on improving my second serve and my forehand."
Born in New York City to parents Lauren and Richard Levine, the family now resides in Bedford, N.Y. Levine has two siblings who also play tennis competively - an older brother Matthew and an older sister Avery.
His parents credit Robert's good play last month to "his strong focus and to working hard on implementing what his coach has been working on with him. He seemed more willing to use newly acquired skills even during tense tournament matches.
"Specifically, Robert's recent improvements have come on his backhand side, and he has gained good control over his emotions during important matches."
The younger Levine started playing tennis in clinics with his friends when he was four.
"By the time I was six, my older brother was playing a lot, and I always wanted to play more. I was lucky enough to start taking lessons when I was seven with [Devashetty], who is still my coach. I wanted to start tournaments when I was very young, because I watched the older kids a lot, and I always thought that I could do what they were doing. Once I started competing, I just wanted to play more and more."
Tyler Kratky (Greenwich, Conn.)
It is very hard for a player to make the Prince Hot 100 List, but to make it two straight months is even more difficult. 2-Star freshman Tyler Kratky has accomplished this feat by moving up over 100 spots in the freshman rankings over the past two months. This Greenwich High School product now stands at #172 in the Class of 2012.
"He drilled me until I fell to the ground," said Kratky, with a grin. "He really showed me the meaning of hard work and determination. We have been primarily focusing on footwork and technique."
His parents agree with this assessment.
"Tyler started focusing on tennis and taking it more seriously about a year ago," said his father, Tom Kratky. "Around the same time, he connected with a great coach. Chris is a phenomenal technician, relentless on physical fitness, and pushes kids to believe they are great. Tyler is very athletic but only recently started believing that he can be a serious tennis player."
Kratky had a number of solid victories among his ten wins in February, but he is most proud of a 6-4, 5-7, 10-8 win over Ethan Bogard (Long Beach, N.Y.) in an Eastern Sectional.
"Ethan is ranked in the Top 100 in the nation in the 14s, and he was #1 in the East in the 12s. He is a great player with a good head, and I really respect his game. I had lost to him twice before - both times I was blown off the court.
"He came into the match confident, but I still knew that I had what it takes to beat him. After we split sets, I won the third-set super tiebreaker 10-8 despite my nerves."
Born in Greenwich, Conn. to Tom and Kristen Kratky, the family still resides there.
The 5'7" right hander is just starting to get comfortable with his style of play.
"I would like to think that I have a good head. My speed allows me to get to most balls, and I am developing an offensive game which forces my opponents into defense."
One can see why Kratky would be drawn to tennis. He comes from a tennis-playing family with his parents, sister (Hannah) and grand-parents all players.
"My parents exposed me to numerous sports when I was young. They let me decide what I wanted to focus on, and I enjoyed racquet sports. I started with one weekly tennis clinic when I was six, and then I moved to playing more frequently when I was nine."
But he is also very successful in soccer and platform tennis.
"After competitive tryouts, I made it onto my high school freshman soccer team and was selected as my team's captain. At the end of the season, I was named the Most Valuable Player by the coaching staff.
"I started playing competitive platform tennis over three years ago. I have held three consecutive national titles, and I am currently the 14-&-under National Platform Tennis Champion. The USPTA just installed 2 platform tennis courts at the Billie Jean King National Tennis Center, and in January I played an exhibition match for the opening ceremonies."
His parents are proud of Tyler's successes in sports, but they say that "while he takes tennis seriously, school remains his #1 priority. He has qualified for all of the honors courses offered at his grade level and he enjoys being challenged in school. Tyler has an innate ability to strike a balance in his life between his social, physical, academic outlets."
Have a look over the Prince Hot 100 lists - and take a look at some of the other players who have stepped up their game.
The next edition of the Prince Hot 100 will be available on April 20.
Want to Be Featured?
Each month, we feature several boys and girls from the Hot 100 lists in a Hot 100 roundup article like this one.
If you would like to be considered for a feature, we need your current email address and phone number. Register for a free account and update your information.
Presented by Prince
Prince Sports, Inc., is proud to be the title sponsor of the Prince Hot 100.
Based in New Jersey, Prince is a company of racquet sports enthusiasts whose goal is to create cutting edge, functional and technically advanced products that deliver performance benefits for avid players. The Company's portfolio of brands includes Prince (tennis, squash and badminton), Ektelon (racquetball) and Viking (platform/paddle tennis). The Company has a history of innovation including inventing the first "oversize" and "longbody" racquets, the first "Natural Foot Shape" tennis shoe, the first "synthetic gut" string and the first electronic ball machine.
Today, Prince markets leading technologies in racquets (EXO3), string (Recoil), footwear (Precision Tube Technology) and apparel (Aerotech). It has operations on three continents with distribution in over 100 countries.
For more information on players, products or programs please visit Prince Sports, Prince Tennis, and the Prince EXO3 site.
Leave a Comment