Special from
The Tennis Grandstand
Last week I got to spend a couple days with "The Big Bozz" - Amer Delic - at beautiful Amelia National Country Club in Amelia Island, Fla. A couple days of training, golf, and family time, helped the big guy recharge the batteries and get the body to a higher tennis fitness level.
Amer played for the University of Illinois under Craig Tiley and went on to win the NCAA Championship in Singles and Team Competition.
Seven Questions with The Big Bozz
Hello and thanks for spending some time to answer a few questions for me! Last week we were able to have some fun playing some golf and training on the court and in the gym. This week you find yourself in Dallas to defend.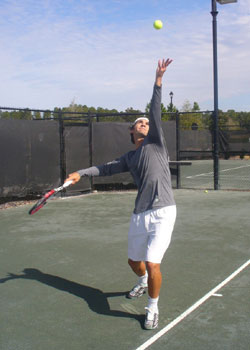 1. How is the body and mind feeling?
Mind and body are both feeling fresh. It helps to have a week off once in a while in between tournaments to recharge the batteries.
2. Having gotten off to a good start this season, does it take any pressure off of you to do well?
I would like to say it does take some pressure off, but with the way tennis rankings work and new players always coming up, it's really hard to say that. It's such a long year and there is plenty of tennis left to be played.