College Feature
In a Perfect World: College TennisDay Schedule
by Marc Lucero, 13 February 2009
Not So Fast My Friend!
Towards the end of the college football season, it struck me that it would be an incredible opportunity for college tennis to put the spotlight on one dual match every weekend - in the same way that ESPN's College GameDay does every week during the college football season.
GameDay has become huge, and it has really been a great thing for generating excitement for college football. In recent years, ESPN extended the concept to college basketball.
You can never have too much of a good thing, and now is the time to apply this concept to college tennis. We can call it College TennisDay - and do live pre-game show from the courts.
Are you listening, Tennis Channel?
I would want TennisRecruiting.net contributor and NBC stud Harry Cicma to be my co-host. And maybe I would have Erin Andrews courtside. I would be ok with her.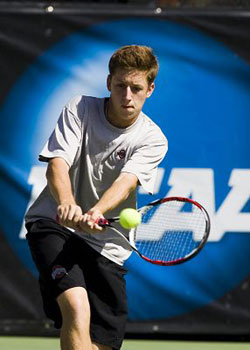 Top-ranked
Ohio State
leads off TennisDay
© Doug Wrege, TennisRecruiting.net
I would want to be at matches where there are big crowds, highly-ranked teams, fierce rivalries, and postseason implications. Looking out on the college tennis landscape, these are this season's matches where College TennisDay would hit the road. And even if the idea doesn't pan out, I would highly recommend that you mark these dates down on your calendar. (Rankings mentioned are from the ITA pre-season poll.)
February 11: Mississippi @ Ohio State (men)
Preseason #9 Ole Miss heads to Columbus to prep for Team Indoors with a clash with #1 The Ohio State University. OSU is tough up top with 3 players ranked inside the ITA top six; the Rebels counter with the nation's #1 doubles team.
February 20: Pepperdine @ Stanford (men)
Coach Steinberg takes his #14 Waves on the road to #12 Stanford. The Waves typically play a tough out of conference schedule and this match is a good measuring stick for the Pepperdine squad.