College Commitment
Countdown: Lampa in the Eye of the Red Storm
by
Ali Jones
, 23 March 2009
Michael Lampa's sports idols say a lot about his own character: basketball's Lebron James, Michael Jordan and Nate Robinson, cycling's Lance Armstrong, and tennis great Andre Agassi.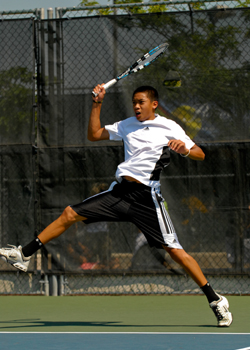 He enumerates the qualities he admires: humility, gratitude, doggedness in the face of adversity, grit, determination, and the endless quest for excellence.
Those attributes have swept him up in the eye of the Storm - the Red Storm, that is, of St. John's University.
The financial package that was offered to him was hard to refuse, especially in light of the academic reputation the university has. His parents are delighted, and more so as he's staying close to home on the Eastern seaboard.
"St. John's has a prestigious pharmacy program," Michael says, who plans to major in the field. "It is located in the New York City area, which is exciting. The school has good academics, and the city is full of opportunities."
It is also a stone's throw from Flushing, home to the USTA Billie Jean King National Tennis Center.
Coach Eric Rebhuhn has guided the Red Storm men to a 75-78 record over his eight-year tenure, culminating in top five finishes in 2004-07.