College Commitment
Countdown: The Tide Carries Chadwell
by James Hill, 1 April 2009
Ian Chadwell of Franklin, Tenn., is fired up about using the phrase "Roll Tide."
And the 5-foot-11, 178-pound right-hander has every right to be fired up, because he has signed a letter of intent to play for the Alabama Crimson Tide.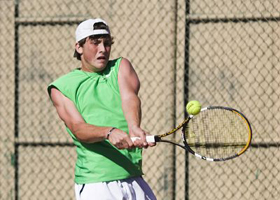 "I am pumped up about going to the University of Alabama in August," said Ian, ranked No. 12 on the TennisRecruiting.net national list. "The recruiting process was not easy for me. It's one of those parts of life I feel are the best and the worst of times. When it came to decision time, it was about the coach, the team, location and campus."
To put Ian's comments in perspective, the University of Alabama, with over 27,000 students, is located in Tuscaloosa, touted as "America's One and Only." The city of 90,000 sits along the banks of the Black Warrior River in west central Alabama.
But, enough of a tour. Let's get to what is most important to Ian - the Crimson Tide tennis program!
Alabama's men's team is led by seventh-year head coach Billy Pate. Over the past six years, Pate has guided his squads to four NCAA Division I Tournament appearances, including two trips to the NCAA Sweet 16. Pate was named the 2007 Southeastern Conference (SEC) Coach of the Year, and the Tide is currently ranked No. 23 in the latest Intercollegiate Tennis Association poll.
In August, Ian visited with Tide assistant coach Bo Hodge. The courtship led to the signing of a national letter of intent in November. Today, Pate has every confidence in his new charge.