College Commitment
Spring Signing Week '09: Anderson a Quaker
by
Alana Marcu
, 9 April 2009
For Mollie Anderson of Melville, NY, the nerve-wracking anticipation of college recruiting is over. After an agitated couple of months leading into the early Fall signing period, Mollie was looking at three choices: Wisconsin, Brown, and Penn.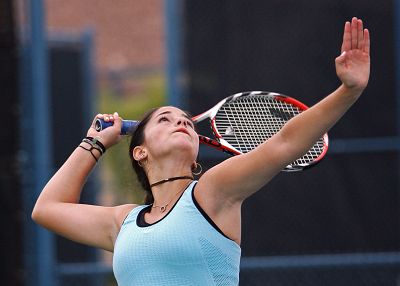 "I had an offer for a full scholarship from Wisconsin," she said. "But when that didn't work out, I decided to focus on the Ivy League programs."
Raised just 33 miles outside of New York City, Anderson admits she wanted to be in or close to a big city for college. That certainly weighed in Penn's favor.
"Philadelphia isn't exactly New York, but it's close. And I like how UPenn's campus is dead in the middle of the city."
Anderson committed to Coach Sara Schiffman and the Penn Quakers.
Location, however, wasn't the only factor that influenced Anderson's decision.
"My good friend Emily Wolf is at UPenn, and I really just loved the coaches on my recruiting visit."
Besides tennis, to which she allots between 1 1/2 to 4 hours a day, six days a week for training, Anderson has an active curiosity in films and their production.
"I'm undecided academically at this point, but I'm really interested in film studies... something like screenwriting and directing."