College Commitment
Spring Signing Week '09: Doerfler Knight
by
Ali Jones
, 6 April 2009
Jenna Doerfler is methodical, orderly and organized. Naturally, when it came to taking the next big step in her young life - college choice - she was her characteristically thorough self.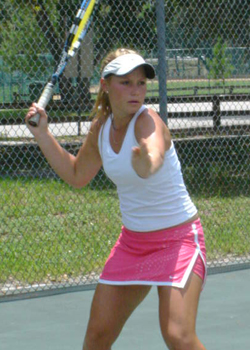 She painstakingly went through the college recruiting process and, guided by her coach Alice Reen, she anticipated questions that were going to be asked by college coaches. She kept a list of questions she needed to ask as well. After each session, she would write down their answers and her thoughts.
"I started out with a rather long list of colleges in the Southeast," the five-star athlete says. "I met so many great coaches and in the process of learning about their teams, I learned a lot about myself."
One thing she found out for sure. There's really no place like home: Jenna will stay in-state and, just as her parents did, will proudly wear University of Central Florida's black and gold.
"What's funny was in the beginning I was looking at smaller campuses like Stetson and Emory," Jenna recalls. "I also thought it would be neat to go to school in another state. I fell in love with North Carolina when I played Zonals there. I also had great choices in East Carolina, College of Charleston, Stetson, UNCW, and UNCG. It was a tough choice because UCF and N.C. State were two places I really felt strong connections."
Jenna, meantime, continued her college visits.
"I went on my official visit to UCF the weekend of October 3rd and I just knew," Jenna says. "The biggest thing for me was the connection I felt with the coaches and the team. With each college visit I took, I asked myself 'Could I see myself here, a part of this program, for the next four years?' My answer to that question was yes with UCF."
Happily, she signed a National Letter of Intent to play for the Knights.