Commitment Announcement
Countdown: Two-Sport Star Lewis Selects Tigers and Tennis
by McCarton Ackerman, 3 April 2009
While most high school tennis players are content with being the best in their state, five-star recruit Andrea Lewis has achieved that distinction in two separate sports.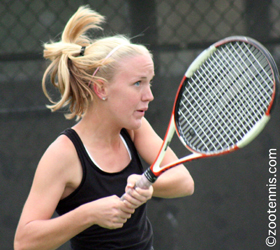 After contemplating whether to pursue tennis or cross-country in college, Andrea Lewis, a senior from Tulsa, Okla., signed a national letter of intent to play for the
University of Missouri
, led by head coach Blake Starkey.
"I absolutely fell in love with Mizzou," says Lewis. "I was blown away by the academics and how nice everybody was. I already knew a lot of the girls on the team and their chemistry was great, so it was an easy decision. I'm so excited to be a Missouri Tiger and can't wait to get started."
A baseline player who relies heavily on her foot speed and competitive spirit, Lewis was introduced to tennis at age 8 by her parents, both of whom are recreational players. She has reached the Girls 18s No. 1 ranking in Oklahoma, and has ranked as high as No. 60 in the USTA 18s and No. 56 in the Tennis Recruiting Network's class of 2009.
Lewis's success has gone well beyond the tennis court. She is currently No. 5 in her class of over 250 at Tulsa's Bishop Kelley High School, in addition to being a National Honor Society member. Also heavily involved in her church, Lewis has completed weeklong missions in inner city New Orleans every summer since Hurricane Katrina, just one of several community service projects in which she has participated.