News & Features
Special Feature
Returning Serve
by
Nick Bollettieri
, 6 July 2009
It is a common phenomenon in the game of tennis for players to spend the majority of their time and energy focusing on their serve. Although I am not disputing the importance of a great serve, I like to have my students practice and place more emphasis on developing a great return of serve. One of the things that make professional players like Roger Federer, Rafael Nadal, and Serena Williams so successful on the court is their ability to instantly put pressure on the server with great return of serves. Let's delve a little deeper into this crucial part of the game.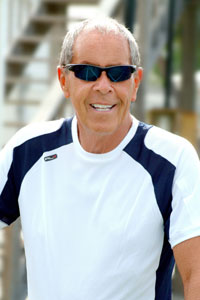 The first thing to note is that the server has two chances and you essentially only have one! You've got to be prepared as quickly as possible and ready to react if and when the opportunity presents itself. There are essentially three options you have when hitting the return of serve:
Get the ball back in play and force the server to play the point.
Go for broke and try to hit return of service winners.
Mix up your returns, including standing in different positions.
What you do is going to depend greatly on the serve of your opponent. I like to have my students use a variety of all three of these options throughout their matches which I believe helps to keep their opponents off-guard and always guessing. One of the biggest things you can do is to change your position based on the server's ability level. Not only does it let the server know that you are paying close attention to their strengths and weaknesses, but it also puts a great deal of pressure on them to try to beat you with their "pushy-push" serve.
Although the serve can be a player's biggest offensive threat, the return of serve should be a player's biggest defensive threat. The server is actually providing the power for your return of service... all you have to do is to keep the ball in play! Of course, against the bigger servers, this is easier said than done. Andre Agassi, one of the best return of servers, was one of few players that actually looked forward to playing the big servers because he knew he could break serve before the match even began. This is the attitude you have to have before every match!
Here are my four keys to a great return:
This Article Is Available Only to Recruiting Advantage members
Please log in to access premium TennisRecruiting.net content.
| | | |
| --- | --- | --- |
| LOG IN | | NOT REGISTERED? |