College Feature
Harvard Law or Decatur Futures?
by
Colette Lewis
, 11 June 2009
When Blake Strode was growing up, he had two ambitious and unrelated dream careers: pro tennis and law. Most youngsters eventually gravitate toward one or the other, with either athletics or academics taking precedence during their teenage years.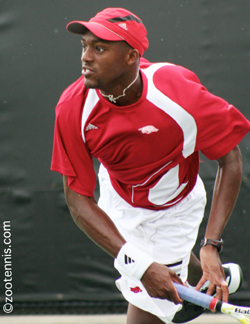 Not Strode. So far, the 21-year-old from St. Louis, Mo., hasn't met a challenge in either realm that requires putting aside those dueling childhood objectives.
A semifinalist at the NCAA Individual championships last month, Strode finished his college career at the University of Arkansas ranked 13th in the Campbell ITA rankings. He graduated with a 3.97 grade point average while majoring in international economics and Spanish, receiving only one B in his four years in Fayetteville.
Strode has an older sister Brooke, who played volleyball at Howard University. His father, James Lester Strode, is the bullpen coach for the Chicago Cubs. His mother Angela introduced him to the sport of tennis.
Named the ITA's national recipient of the Arthur Ashe Award for Leadership and Sportsmanship, he will be honored at and participate in Arthur Ashe Kids Day prior to the U.S. Open. He has been named to the USTA's Summer Collegiate Team and will serve as a hitting partner for the World Team Tennis St. Louis Aces in July.
I spoke with Strode about how he nurtured his two dreams and what's ahead for him in both professional tennis and in the study of law.
Questions and Answers
Q. How did you get started playing tennis?
A. I was in Florida, I was five years old, on vacation one summer and I saw a match on TV. I told my mom, I want to go play, and she took me out to a clinic there in Daytona, and I've just been playing ever since.