College Commitment
Charlotte Calhoun to SMU
by
Ali Jones
, 26 June 2009
Charlotte Calhoun, thanks to her Texas roots, has grown up with an independent streak. At 13 she gave up competitive horseback riding and left the comforts of her family home to pursue her tennis dreams.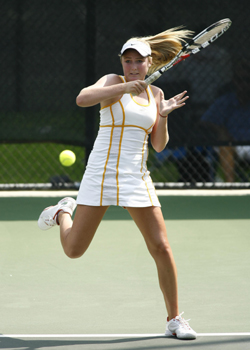 At age 15 an intrepid Charlotte - traveling solo - packed her tennis racquets, hopped on a plane and played in an ITF event in Mexico City, a vibrant and unpredictable city of almost nine million souls.
And now, the five-star recruit, who just completed her junior year, has decided that after seeing the world and most of the U.S. through tennis eyes, home is where she plans to go to college.
She has made an early verbal commitment to Southern Methodist University, a private liberal arts college located in a quiet, tree-lined suburb hemmed in by the sprawling city of Dallas and a stone's throw from Charlotte's childhood home.
"Once I discovered SMU, there was really no need to research other colleges because SMU fit all the criteria I was looking for in a college," Charlotte says. "I plan to become a lawyer and since SMU has an excellent law school, I found SMU to meet both my short- and long-term goals."
The short-term goal is to help the Lady Mustangs team equal or surpass its historic and stellar 2009 season: it took home C-USA Women's Tennis Championship trophy and earned Head Coach Lauren Longbotham-Meisner Conference USA Coach of the Year honors. It finished with an impressive 27-2 record and a 17-match winning streak, after being plagued by injuries in 2008.
"The one deciding factor that helped me make up my mind was the coach," Charlotte says. "Lauren is very straightforward and honest, has a plan and sticks to it."