Junior Profile
On Serve with Heather Watson
by Dan Tierney, 21 September 2009
By now, you probably know Heather Watson as the U.S. Open Junior girls' champion.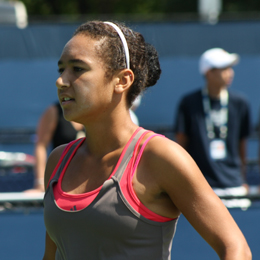 But how much do you really know about the 17-year-old IMG Bollettieri Tennis Academy student originally from the tiny island of Guernsey, just south of the United Kingdom?
Tennisrecruiting.net got Watson to shine a little more light on herself in her own words.
Heather Watson on...
... her native island: Guernsey is only 9-by-12 mile, but it's densely populated with about 60,000 people. Everyone knows each other. Everyone knows the gossip. People have been so supportive of me. My dad's there and we still have a house. It's most known for the Guernsey cow and milk. It produces a special kind of milk that's quite rare and everyone likes the taste of it. I love it. I drink milk all the time. I can't get that milk here, so I just get some regular 2% milk from the grocery store.
... her pre-tournament confidence level: I knew I had the ability to win, but I wasn't reaching my potential. I didn't have that much confidence going into it. After the first match, it just got me going. The two indoor matches were the best for me. I felt like I was just breaking down my opponents.
... her championship celebration: When she missed the last ball, I didn't realize right away that I had won the tournament. I went up shook her hand, put my racket down and did the waving thing around the court. Before my match, I was thinking about what I would do if I won. Should I kiss the court? Fall to my knees and start crying? But I was just in the moment.
... how her life has changed since the U.S. Open:
There's just been so much attention all at once. I've done media for about three days straight. As soon as my match finished, I did three interviews on the court, then did a photo shoot for about an hour. I've had so many friend requests and about 200 or 300 wall posts on Facebook. I had about 20 text messages. I got my first piece of fan mail. Someone from America sent me two photos of myself with a pen in the envelope and asked me to sign. Of course, I signed it.