College Commitment
Fall Signing Week '09: Hold That Hilsman
by
Ali Jones
, 9 November 2009
For three hours in his young life, five-star recruit Cal Hilsman felt like a professional tennis player.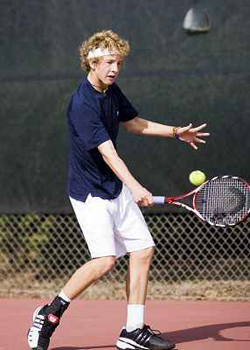 It happened one hot, sunny morning as Cal and blue-chip Minnesotan
Wyatt McCoy
walked onto Court Number One of Stowe Stadium at the 2009 Kalamazoo National Championships.
Cal won the first set in a tiebreak, lost the second 1-6. The match entered its third hour and the players are locked in another tiebreak in the third. Cal watched as one match point slipped by. And another. And another.
Finally, up 6-4 in the tiebreak, Cal comes up to the net. Wyatt launches a lob. Cal turns around and watches the ball land. Mercifully, it was an inch out. It must have been Cal's 12th match point.
Game, set, match Cal Hilsman.
He points to his family and friends in the stands, something he's often seen the pros do.
"While this for sure wasn't the best match I've played I would consider it most memorable," Cal said. "Just because of the stage and the history of the event."
His reward for winning that match: top seed Alex Domijan.
Fast forward January 2010: Kalamazoo is a distant memory, Clemson is the present. That's when Cal officially dons the orange Tiger jersey.
The Spartanburg, South Carolina, native can't wait to go to college.
"It was a no-brainer," he said about his decision to go to Clemson, less than two hours from home. "It just felt right. I really think that this is the best environment for me to grow not only as a tennis player but as a person. It is close to home and close to heart."