College Commitment
Countdown: Dolehide Heads West to UCLA
by Rhiannon Potkey, 3 November 2009
It's hard to imagine anyone being more excited than Brian Dolehide when his big sister, Courtney, verbally committed to UCLA.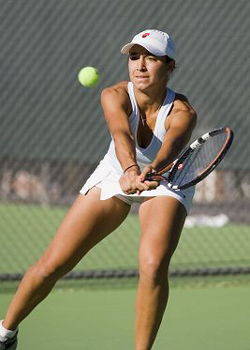 The sixth grader is a huge fan of the UCLA men's basketball team and has Bruins paraphernalia plastered all over his bedroom walls in Hinsdale, Ill.
When Dolehide received an invitation to UCLA's recruiting weekend that included tickets to a basketball game, she knew exactly who to bring.
She figured it would make a great Christmas present for her little brother.
UCLA beat Cal in two ways that weekend. The Bruins won the basketball game and they won Dolehide's commitment.
"That is when I fell in love with the school," she said. "It's such a great academic school and it is so sports-oriented. There is so much spirit around being a Bruin, and I am just really excited about that part of it."
Dolehide immediately felt a sense of comfort with UCLA head coach Stella Sampras Webster and associate head coach Rance Brown.
"They are both opposite personalities and complement each other so well," Dolehide said. "They are both so nice, and I am excited to be with them for four years."