College Commitment
Countdown: Tigers Take Three
by James Hill, 26 October 2009
Three highly-ranked recruits from Florida, Georgia and Alabama have given verbal commitments to become members of the Auburn University Tigers women's tennis team.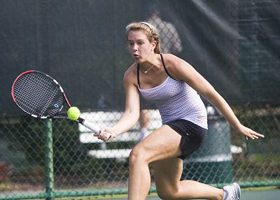 Jackie Kasler
of Gulf Breeze, Fla.;
Julia Courter
of Lawrenceville, Ga.; and
Emily Newton
of Dothan, Ala.; will all play for head coach Tim Gray in Auburn, Ala.
Gray and his assistant, who happens to be his wife, Christine Franek Gray, cannot comment on their recruits because of NCAA regulations. The three young stars will sign the National Letter of Intent next month.
But the three future Tigers have plenty to say about their new team.
Kasler, ranked No. 37 nationally by TennisRecruiting.net, and eighth in Florida (12th Southeast), was very interested in LSU. But Kasler has diverse reasons for joining the Auburn team.
"I feel coach Gray has helped the Auburn women's tennis program grow," said Kasler, who won the 2008 Florida state Class 2A singles and doubles championships for Gulf Breeze High School. "I want to be part of its path toward an NCAA championship. Auburn's academic diversity satisfies my desires and pursuits for veterinary medicine or sports broadcasting."
Her state singles and doubles championships were the first-ever for Gulf Breeze High School.
Gray, in his fifth season at the Auburn helm, has led his Tigers to three consecutive NCAA Division I tournament berths. Auburn finished last season ranked No. 35 by the Intercollegiate Tennis Association.
The three Auburn recruits are friends, and they have played each other a number of times.