Tournament Summary
Winter Nationals Part I - 12s and 14s
by
Ali Jones
, 4 January 2010
The first day of 2010 was picture perfect for tennis in Tucson.
The top-seeded players for all four divisions came through all the way in straight-sets victories in the finals.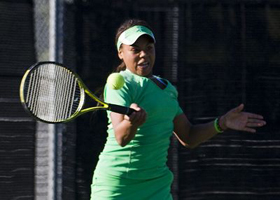 Throughout the week, the other seeds were falling by the wayside. Only the Girls 14s finals pit the top two seeds. The other finalists were seeded eighth, twelfth and ninth.
By noon on New Year's Day, Alexandra Letzt, Gabrielle Andrews, Spencer Furman and Gage Brymer each was crowned singles champion.
Each has an outstanding singles record: Letzt is 92-20; Andrews 95-12; Furman 74-13 and Brymer 80-20.
Letzt, Andrews and Furman each also took home a doubles gold.
Girls 12s
Top Arizona Girls 12s Alexandra Letzt hadn't lost a set all tournament, winning her semis match against Kaitlyn McCarthy in a convincing 6-0,6-0 victory.
She played the top girl from Michigan, 9th seed McKenna Root, who upset 3rd seed and her doubles partner Karina Traxler of Texas 6-4, 6-3.
Letzt came in confident and won the finals 2 and 2.
"I was really, really nervous, and I just moved my feet and hit the ball," Letzt said. "I definitely overcame my nerves faster than [Root] did." Her game arsenal is pretty varied and she can pick and choose her shots, depending on who is across the net.
"I was more aggressive today," she said. The towering lass held serve fairly easily, popping flat winners every so often and whipped forehands to dominate play.
"The more challenging the opponent, the better I play," Letzt said. "And [Root] was a great opponent."
She intends to give both gold balls to her grandparents, Ellie and Jeffrey Letzt, who have been her most ardent supporters and who provide moral and financial support for the 12-year-old champion.
Letzt trains at the Rasta-TPA Tennis Academy at the Scottsdale Athletic Club, in Scottsdale, Arizona. James Jack and Forrest Pascal form her inner circle and help her in all aspects of her game.
Runner up McKenna Root trains at the Midland Community Tennis Academy under Patrick Jenkins and for now will have to be satisfied with a pair of silver balls.
"[Alexandra] was bigger and stronger," said the petite Root, "and she just hit heavy balls and I backed up."