Recruiting Feature
Top Women's Classes - 2010 Spring Rankings
by TennisRecruiting.net, 31 May 2010
Last Monday, The Tennis Recruiting Network kicked off its Spring Recruiting Class Rankings with its list of the top men's classes. Today, we take a look at the women's classes.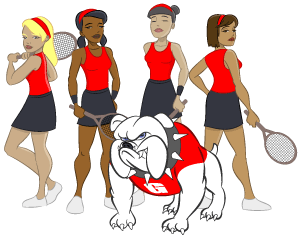 We have talked with many college coaches and high school senior players, and the vast majority of top American college-bound seniors have reported commitments. Commitments continue to roll in every day, but they are unlikely to impact the top classes.
The Tennis Recruiting Network is proud to announce the Top 25 women's recruiting classes for the Class of 2010.
Media Poll
A panel of junior tennis experts has once again volunteered to help us determine the top classes. Journalists, tournament directors, referees, and ranking chairmen from across the country have taken the time to vote on these recruiting classes. The panelists for this list are shown later in the article.
Each panelist submitted his/her list of the Top 25 recruiting classes. Schools received 25 points for each first-place vote, 24 points for each second-place vote, on down to 1 point for each 25th-place vote. Because data for transfer students is so hard to come by, we asked the panelists to not consider transfer students in the voting process.
Top 25 Women's Recruiting Classes (through May 10)
Here are the Spring Rankings of the top women's college recruiting classes, presented by the Tennis Recruiting Network. The Top 25 classes are shown in order, with the point totals and previous ranking from the winter in the two columns at right. The number of first-place votes is shown in parentheses next to the school name.
New recruits for schools are shown in bold italics, and recruits who are ineligible for the rankings (usually because of enrolling this past spring) are shown in strikethrough These lists are based on all commitments reported through May 10, 2010.
Also Receiving Votes
Other women's programs receiving votes are: UMass (26), Dartmouth (23), N.C. State (18), Rice (16), Wisconsin (13), Miami (FL) (9), Minnesota (8), Amherst (3), Harvard (2), Boston College (2), Emory (1), Columbia (1), DePaul (1), UNC Wilmington (1).
Top Dawgs
The Georgia Bulldogs were the top team in our Winter Rankings published in February, so it is not too surprising that they are back at No. 1 in the spring. What is surprising is that they added two more Blue Chip recruits along with a Japanese national champion this spring.
Georgia's class includes an unprecedented four Blue Chip recruits - Alexandra Anghelescu, Kate Fuller, Alina Jerjomina, and Lilly Kimbell - along with Japan's Maho Kowase and 4-Star recruit Rachael Hart.
The Bulldogs captured 17 of the 18 first-place votes - and 449 of the 450 available points in our poll.
New Arrivals
Although there is a great deal of reordering of classes between our Winter and Spring rankings, this poll features only two new programs that were previously unranked: No. 12 Auburn and No. 23 North Carolina. Both schools attracted a blend of U.S. and international players to push them into the rankings.
There are four new faces in the Top 10, led by Northwestern at No. 4. The Wildcats added Oregon Blue Chip Belinda Niu to climb near the top of all recruiting classes.
Other programs new to the Top 10 are Texas (No. 9) and Vanderbilt (10).
Conference Breakdown
The SEC leads all conferences with six of their twelve programs in the rankings. All six ranked programs are in the top 16, including four among the top 10. Georgia leads the way at No. 1, followed by Alabama (5), Florida (6), Vanderbilt (10), Auburn (12), and Tennessee (16).
Other conferences with multiple programs in the Top 25 are the ACC (4 programs), Pac-10 (4), Big 10 (3), Big 12 (3), and the Ivy League (3).
The sole mid-major program in the rankings this time around is UC Davis out of the Big West Conference. The Aggies check in at No. 25.
Panelists for May 2010
The 18 panelists for this voting period are shown below alphabetically. Please join us in thanking them for donating their time and talents to this effort.
Joe Braden, Director of Tennis at Schwartz Tennis Center, Purdue University, Vice-President of Central Indiana Tennis Association, USPTA Member
Casey Chapin, USTA National Referee and Director, Director, Hudlow Tennis Center
Sonny Dearth, Daily Press newspaper and dailypress.com Web site in Newport News, Va.
Tim Donovan, Donovan Tennis Strategies, DTS College Prospects Showcases
Sally Grabham, National Tournament Director, USTA Winter Nationals, President of USTA Central Arizona
Granger Huntress, Texas College Tennis blog, Communications/IT manager for USTA/Texas
Larry Jackson, Director, Dayton Center Courts and Tennis Academy, National Tournament Director
Adam Jasick, Director of Tennis-Miller Tennis Center, National Tournament Director, PTR National Tester and Clinician, USA Tennis High Performance Coaching Program Graduate
Pua Johnson, USTA National and ITA Collegiate Referee
Ali Jones, Contributor to TennisRecruiting.net.
Ernie Katko, Director at Herrmann Tennis Academy, USTA High Performance Coach, USPTA, USPTR
David "The Koz" Kozlowski, Inside Tennis With The Koz, The Tennis Channel
Patty Lambropoulos, Junior Tennis Coordinator, College Park Athletic Club, National Tournament Director, Chicago District Board of Director and Endorser, Midwest Junior Competion Committee.
Colette Lewis, ZooTennis.com, USTA Hardcourts
Marc Lucero, Contributor to TennisRecruiting.net, Private Coach, Former Princeton assistant tennis coach
Phil Parrish, Tennis Director, The Longfellow Club, National Tournament Director, Former College Coach
Clayton Taylor, Director of U.S. ITF Hardcourt Championships, Director of Tennis at The Atlantic Club,
Julie Wrege, TennisInformation.com, TennisRecruiting.net, National Tournament Director, former USTA ranking chair
Leave a Comment
More Recruiting Class Rankings
1-Feb-2021
Top Women's Classes - 2021 Winter Rankings
Our look at the top recruiting classes continues today, as we check in with the women. With seniors continuing to commit at a high clip, TRN announces its Top 25 Winter Recruiting Classes for 2021.
25-Jan-2021
Top Men's Classes - 2021 Winter Rankings
With more than 700 college commitments in the books, TRN takes a look at the Top Men's Recruiting Classes for 2021. Take a look at how your favorite teams are building for the future.
8-Jun-2020
2020 Top Mid-Major Men's Classes
The Tennis Recruiting Network and Mizuno continue their recruiting class ranking series this week with a look at the mid-majors. Today we present the Top 25 Men's Mid-Major Recruiting Class Rankings for the Class of 2020 - with the 'Niners looking strong at the top.