Ask the Experts
Conversation with Oklahoma Coach David Mullins
by
Ali Jones
, 29 January 2010
Sooners Women's Head Coach David Mullins recently signed the top two players in Oklahoma: Whitney Ritchie and Mia Lancaster. Both women are five-star recruits with impressive singles resumes. Even more stellar are their doubles credentials. They attend the same high school and as a pair share five national doubles titles and a state title.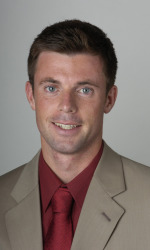 OU
coach David Mullins courtesy, Oklahoma Sports
Mullins, on his second year as head coach, is optimistic about his squad's future.
"We will not lose anyone from this year's team, and to add two players of this caliber will make us a tough team to beat," Mullins said.
The University of Oklahoma in the past decade has continued to beef up its tennis program by investing in its facilities and coaching staff. The newly opened Gregg Wadley Pavilion adds six indoor courts to the 12 existing championship courts of the Headington Family Tennis Center.
Mullins joined the Sooners as women's head coach in 2008; John Roddick was hired as men's head coach last year.
Ali Jones spoke with Mullins about the Crimson and Cream, recruiting and his vision for OU.
Questions and Answers
Ali Jones (AJ): Recruits often speak about the importance of the coach in their decision to commit to a particular college. In addition to coach and team statistics that parents and athletes look at, what are the other intangible qualities that a coach possesses that helps convince a prospect?
David Mullins (DM): I don't believe that these young prospects speak enough about the importance of the coach. They don't truly understand the role the coach is going to play in their experience.
The coach should play a vital role in a player's decision, and I don't believe that is the case right now. If prospects are serious about improving their tennis and being the best tennis player that they can be during their college years, then they need to understand how the coach is going to help them do that.
They need to ask themselves if the coach is capable of giving them the individual attention and hours on court that their games need to improve - and ask the coach what their vision or plan is for helping them achieve their athletic goals.
I have often felt that these young athletes are not necessarily looking for these intangible qualities in their prospective coaches, and that it may be the school's tradition or proximity to home that is convincing a prospect to go there. If those elements are the most important to the athlete, then they need to understand their order of priorities, and decide what type of role they want their coach to play in their experience. If proximity to home is more important than the coach, that is fine, but then the athletes cannot be too disappointed in the coaching they receive once they get there if the level of coaching is not a top priority.
Prospects should strive for the best of everything during their college years and that is why it is so important to make sure they do as much research as possible on each program they are interested in so that they won't be disappointed.