College Feature
Taney's Comeback Leads No. 8 Michigan Women Past Fifth-ranked Baylor
by
Colette Lewis
, 1 March 2010
College dual matches can't be scripted. Too much can happen over the course of three doubles and six singles matches. But last week the Michigan women earned two 4-3 victories over visitors from Texas by following a similar storyline - win the doubles point, then add victories at the 4, 5, and 6 singles spots.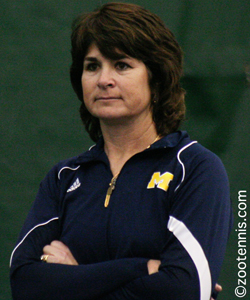 Against 32nd-ranked
TCU
last Wednesday, it was sophomore Michelle Sulahian who delivered the fourth point at No. 6 singles. Against No. 5
Baylor
, it was junior captain Whitney Taney who played the role of heroine, coming from behind to clinch the Wolverines' first-ever win over a Top-5 program Friday.
The cold and snowy evening started well for the Michigan women when they captured the doubles point with victories at the No. 2 and No. 3 courts. Baylor's top team of Lenka Broosova and Csilla Borsanyi, ranked 12th nationally, defeated Taney and Rika Tatsuno 8-4, but just a few minutes later, Mimi Nguyen and Sulahian won at the No. 2 position, downing Baylor's Nina Secerbegovic and Karolina Filipiak 8-3.
It was 6-6 on court 3, where the Michigan team of Tania Mahtani and Denise Muresan had seen their 4-1 lead disappear with the loss of four straight games to Taylor Ormond and Jelena Stanivuk. The Wolverines were then in the precarious position of serving from behind, but held in close games at 4-5 and 5-6, primarily with excellent defense. With Ormond serving at 6-6, 30-40, a missed overhead on a good defensive lob cost Baylor the game, and Muresan served out the match for Michigan.
"We feel like we have three solid doubles teams," said head coach Ronni Bernstein, in her third year at Michigan. "We've shown this year - we've played great teams - that we're in the doubles pretty much every match. I think we've only lost one doubles point to Florida. So that helps. It gives you a boost going into the singles."