Special from
Central Oregon Athlete
One of Oregon's greatest high school tennis champions is staying close to home as Alex Rovello of Portland's Cleveland High School announced that he'll be an Oregon Duck.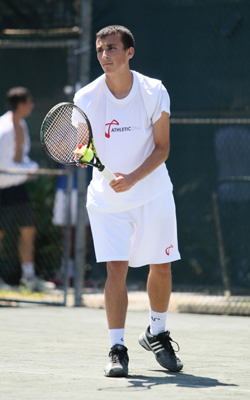 "This past November I decided to play for the University of Oregon. It came down to U. of O. and the
University of New Mexico
as they were both offering full scholarships. I really liked both schools but it truly came down to being close to home so my family and friends can come watch me play," said Rovello, the No. 1 recruit out of the Pacific Northwest.
While many elite juniors forgo playing high school tennis, Rovello has shown that a great young player can play both prep and elite level National tournaments, and excel in each.
Rovello, ranked No. 45 in the Nation by The Tennis Recruiting Network, has had success at National level tournaments such as the National Clay Courts in Delray Beach, Florida where in 2008 he reached the round of 16 in the 256-player draw. But it is neither his National success nor his 65-match Pacific Northwest win streak (which was snapped in 2009) that has made him a legend in Oregon. This spring, Rovello will be aiming for his record fourth-straight Class 5A high school state singles title. He has yet to lose a set in his high school career.
"What makes playing high school tennis so special is the comradery, and the feeling of playing for a team. Instead of just playing for yourself, your playing for your team. I always try to never let my team down and try to cheer on our team as much as I can," said Rovello.
Rovello is an elite-level junior player, playing on a high school tennis team, something many people don't think works. But he has proved that with the right high school coach, it isn't a problem.