College Commitment
Spring Signing Week '10: Aaron Pfister to Michigan State
by
Ali Jones
, 15 April 2010
To tennis aficionados around Flint, Michigan, Aaron Pfister is a familiar name.
The five-star recruit, currently the third-ranked player in the state, made local history: He's the first athlete from the area to win a state title at No. 1 singles in Class A or Division 1 in 2008. And just for emphasis, Pfister won it again the next year.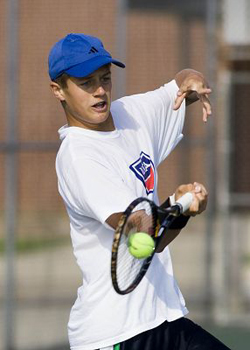 He was named
Mr. Tennis
by the Michigan High School Tennis Coaches Association and
Player of the Year
by
The Flint Journal
for the second straight year, thanks to a sterling record, losing only six matches out of 100 and finishing his senior year undefeated.
"Aaron has had an amazing tennis career here at Grand Blanc High School," Bobcats Head Coach Don Leavy told The Flint Journal. "Two Division I No. 1 singles titles is something that is going to be very difficult for any high school tennis player to match."
Pfister's high-school resume and top 70 national ranking naturally stirred interests from college coaches, including those of Xavier, Iowa, Western Michigan and Michigan State.
But it was his longstanding relationship with Michigan State Head Coach Gene Orlando and the school's proximity to home that sealed it for the White and Green.
"I've known Coach Orlando since I was nine years old," Pfister said. He had joined tennis camps at the university, about an hour away from his Grand Blanc home.
"I'm comfortable with him and his style suits me," he added.