News & Features
Recruiting Feature
Countdown: Girls' War Room
by Julie Wrege, 30 March 2010
Many top high school-senior tennis players made their college choices during the Fall Signing Period back in November. The rest have been visiting schools over the winter - making verbal commitments after they get the information they need.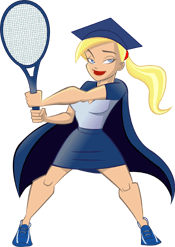 All of these players will have their first opportunity to make a formal commitment on April 14th - Signing Day.
TennisRecruiting.net has been keeping in contact with the Top 100 girls on the Class Rankings List to find out where they are in their decision process. A number of them have made commitments, some have narrowed their lists, and many are still wide open.
This article takes a look at these highly-recruited girls.
Top 100 Status (as of March 24)
The table below shows the Top 100 athletes and their recruiting status. The Commitment column shows whether the recruit has made a commitment or is undecided, while the Interests column indicates schools of interest.