College Commitment
Spring Signing Week '10: Courter an OSU Cowgirl
by
Ali Jones
, 15 April 2010
From the rich vein running through Georgia's tennis landscape that produces top-quality gems, another sparkler from Lawrenceville has been unearthed.
Five-star Julia Courter is off to Stillwater, Oklahoma, for further polishing.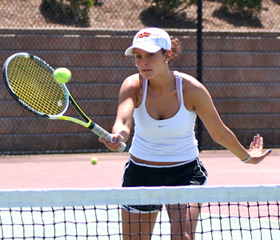 Courter, who wrapped up her senior year in January, heads off to
Oklahoma State University
in the summer. She begins her college career by traveling with her Cowgirl teammates to a few 10K tournaments.
"I'd like to see how far I can get with my game," Courter said while acknowledging that there will be no easy matches at these tournaments. That suits her just fine. She's very competitive by nature and likes to be rewarded with "W's" for her efforts.
The summer stint on the circuit will also give her a taste of a life she would like to have post-college: a crack at the pro tour.
But for now, she savors her next big step in tennis with a group of like-minded girls who are hard-core athletes but also fun-loving. Her life as a solitary warrior in junior tennis is over.
"I'm so excited about my new teammates, and I can't wait to improve with them and cheer them on every step of the way," said the 18-year-old Laurel Springs grad.
But much as she loves being a team player, what clinched her decision to sign with State is its brand-new stellar coaching duo of Chris Young and former WTA pro Jamea Jackson.
Oklahoma native Chris Young previously led Wichita State's women's team to three league titles and to three NCAA appearances, compiling an overall 94-38 record, including a 33-6 record in the Missouri Valley Conference. He was named conference coach of the year three times as he took the unrated Shockers program to a ranking for 43 consecutive weeks.
Assistant Coach Jamea Jackson, a Georgia gem like Courter, was ranked as high as 45 in the world and competed in tennis' four grand slam events. She has 77 singles and seven doubles wins, including over Maria Sharapova and Jelena Jankovic. Jackson also represented the U.S. in Fed Cup play in 2006, helping her country win over Germany.