Who's Hot?
Prince Hot 100 List - May '10
by Amelia Thomas, 18 May 2010
As the 2009-2010 school year comes to an end, the lure of summer approaches. Final exams will soon be in the rearview mirror, and water is filling swimming pools. Tennis season gets a bit more serious for juniors with school out of session, and the professionals are getting ready to head to Roland Garros for the French Open this weekend.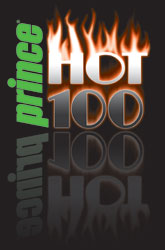 Today, TennisRecruiting.net and Prince Sports help get summer started with another edition of the Prince Hot 100. The Prince Hot 100 lists are published each month, and the May lists feature the one hundred boys and girls who most improved their ranking during the month of April. You can find out more about the Prince Hot 100 - and how the lists are calculated - by reading here.
This month's lists, published earlier this week, are now available:
Let's take a closer look at a few of these players...
Roundup
Haley Driver (San Diego, Calif.)
Growing up, junior Haley Driver participated in several sports, both team and individual. She enjoys basketball, running, surfing, water-skiing, rock climbing, scuba diving, biking and particularly loves snowboarding. However, tennis was always her favorite, and she zeroed in on it towards the end of her freshman year.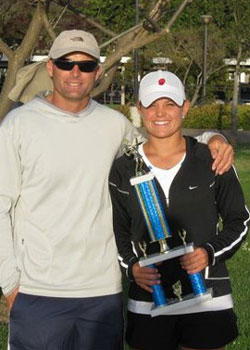 Deciding to play the sport exclusively proved to be the right choice last month. Driver moved up 28 spots in the junior class rankings to #64, a significant feat for an Top 100 recruit.
Perhaps the most significant of Driver's accomplishments in April was winning the title in the prestigious USTA Interscholastic Championships West, where all six opponents she defeated were 4- and 5-Star athletes. As a junior, Driver is tossing out these successes at the perfect time for college coaches to notice her.
When it comes to colleges, Driver is interested in a competitive program.
"I am looking for a coach who is passionate and wants his team to not only succeed, but get better," Driver said. "I would like to enter into a program where the girls really want to be there - and want to improve as well. The more the team wants to win, the more likely that is to happen."
Driver explained that she would not have such passion for tennis without her coach, Wolf von Lindenau, of the Barnes Youth Tennis Center in San Diego.
"There is no doubt that I wouldn't be where I am today if it wasn't for him. He has sacrificed way more than anyone could imagine for me to reach my highest potential. He has showed me how to have love for the game."
Recently, Driver has been working with Lindenau on making her game more versatile. "My game is always changing and evolving," Driver said. "Depending on my opponent I can either play more conservative tennis if I need to, but if I'm playing against a big hitter, I can also hold my own. Every day is something new, and as long as we accomplish something every day, I think we're heading in the right direction."
Putting those skills to use, Driver is more confident in her game. She is not only talented, but truly loves to compete.
"My best win was a tough three-and-a-half hour battle in Fresno against Alexandra Dawson [where she won 6-7(8), 6-4, 6-3]. I came off [the court] in absolute tears, realizing that the hard work my coaches and I have put in had paid off. This match gave me the confidence that I could overcome any situation, and that I was there to win."
While tennis is her exclusive sport, Driver still enjoys some of her other hobbies. She has been training for the San Diego Rock 'n Roll half marathon coming up on June 6th. This has no doubt allowed me to stay in long matches better - and be mentally stronger.
"I've gotten quicker and stronger, which has improved every aspect of my game."